Governor, CM send Gurpurb greetings
Dehradun, November 12
Uttarakhand Governor, B.L.Joshi has extended his greetings on the occasion of Guru Nanak Jayanti and Kartik Purnima, which are being celebrated on November 13.
Protesting ABVP activists ransack institute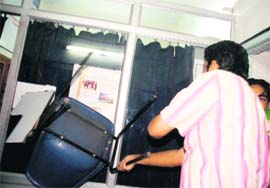 Dehradun, November 12
The activists of the ABVP today ransacked the Career Launcher Institute on Subhash Road for not complying with their bandh call. Though no body sustained any injury, but several articles and furniture in the institute was damaged.

The office of the Career Launcher Institute on Subhash Road being ransacked by an ABVP activist on Wednesday. Tribune photo: Anil P. Rawat

Hoardings on roofs to remain
Dehradun, November 12
In spite of lot of hue and cry, the present hoardings installed on rooftops will continue to stay. The Dehradun Municipal Corporation today decided to continue with all the 90 hoardings presently atop of various buildings across the city.
Delay in master plan boon for land mafia
Dehradun, November 12
A day after chief minister BC Khanduri assured to implement master plan of Dehradun during formal interaction with public in the state secretariat, Uttarakhand Engineer and Draftsmen Welfare Association demanded to know the reasons behind the delay as it is leading to uneven growth of the city besides loss to state exchequer on account of illegal constructions.
Probe begins into felling of trees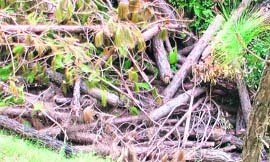 Dehradun, November 12
The Uttarakhand forest authorities as well as the Tehri district administration have initiated inquiries into the alleged axing of hundreds of trees on private land by a builder. It was alleged that Virender Sajwan alias Pappu Sajwan allegedly cut hundreds of pine trees on his private land taking advantage of permission to cut 40 trees to built a road up to his land.

The trees felled illegally near New Tehri township in Tehri Garhwal on Wednesday. A Tribune photograph
Teachers threaten to launch agitation
Dehradun, November 12
Teachers under the banner of the Uttarakhand Shikshak Samnvaya Samiti (USSS) have threatened to launch an agitation to demand the pay scale according to the Sixth Pay Commission.
Book exhibition opens
Dehradun, November 12
A week-long book exhibition got underway at the Doon Library and Research Centre, Parade Ground, here yesterday.
State body to seek BCCI affiliation, says Chetan Chauhan
Dehradun, November 12
Former Test player and newly-elected president of the United Cricket Association of Uttarakhand (UCAU) Chetan Chauhan today made it clear that the task of getting affiliation with the Board for Control of Cricket in India (BCCI) would depend on fulfilling required norms over next three years.
...Also believes lot of cricket left in Dravid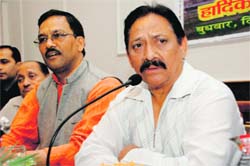 Dehradun, November 12
The former Indian opening batsman Chetan Chauhan feels that the gap created by the retirement of Saurav Ganguly and Anil Kumble would take a long time to be filled. "Saurav Ganguly and Anil Kumble's decision to retire from the international arena has come at the right time.
Former Test player and present United Cricket Association-Uttarakhand's President, Chetan Chauhan addresses press conference at Dehradun. Tribune photo by Vinod Pundir
Two drowned in canal
Dehradun, November 12
Two persons died after they drowned in Raipur Canal near Pump House today evening. The deceased have been identified as Kishore (40), resident of Ram Nagar, Danda and Ravi Thapa (40), who resides near Dharampur Chowk.