Children's Day of fun & frolic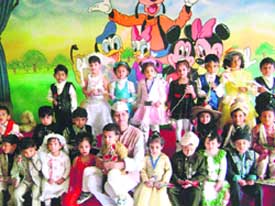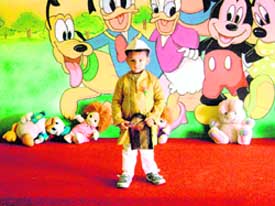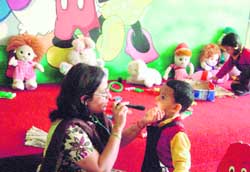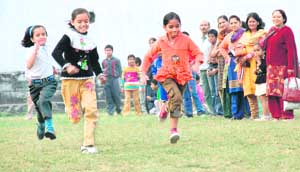 (Clockwise from top left) Tiny tots hold a fancy dress contest at Shemrock; one dresses up as a neta and another gets a dentall checkup Kids compete in a 50-metre race at the Uttarakhand Press Club. Tribune photos: Anil P. Rawat
CHILDREN OF A LESSER GOD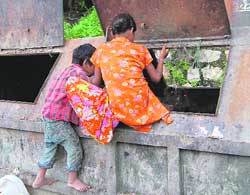 Do we celebrate Children's Day only for the rich? So it seems
Weeklong celebrations at Shemrock
Dehradun November 14
Several functions were held in schools all over the state to mark the birth anniversary of the first Prime Minister of India, Jawaharlal Nehru that is observed as children's day.
Teachers regale kids with cultural show
Dehradun, November 14
B.S. Negi Mahila Pravidhik Prashikshan Sansthan celebrated Children Day in a different way this year. The residents, students, of different age groups of Rajkiya Bal Niketan (Kishore Grah) and Bal Vanita Ashram were invited to participate in various competitions like solo dance, group dance, group song, poem recitation, solo song etc.
District Athletics Meet
Coaches rue lack of participation
Dehradun, November 14
The poor participation by schools, especially government schools, in the 63rd District Athletics Meet that concluded at Maharana Pratap Sports College recently, has left the coaches a worried lot. Usually, around 1500 athletes participate in this meet but this time the number has come down to half.
Uttarakhand, Delhi clinch league matches
Dehradun, November 14
Uttrakhand and Delhi won their respective league matches on the first day of the 10th Little League National Baseball Championship which got underway at Rangers ground here today.

First Person
My love affair with The Tribune
I must have been born with a newspaper in hand, for ever since I remember, I always read one newspaper or the other. In Lahore, my birthplace, I was the first in the family to greet the Tribune early in the morning as the delivery boy dropped a copy into our compound, where I invariably slept under a mosquito net during sultry summer nights.
Minister creates a flutter, flays his govt at hospital function
He is Koshiyari's man, claim sources
Dehradun, November 14
Much to the shock of his ministerial colleagues, Uttarakhand agriculture minister Trivender Singh Rawat yesterday minced no words in condemning the state's declining medical education standards.
Doon Hospital
Foundation stone of new complex laid
Dehradun, November 14
Uttarakhand health minister Dr Ramesh Pokhriyal Nishank yesterday laid the foundation stone of a new building complex at the Doon Hospital.
People who fought for statehood feel ignored
Dehradun, November 14
The general secretary of Uttarakhand Andolankari Sanyukt Parishad Vipul Nautiyal, while addressing a press conference here yesterday, said people who fought for statehood and went to jail have been given all the credit and the rest remain totally ignored.
Forest dept tops RTI rating
Dehradun, November 14
The office of Principal Chief Conservator of Forests, Uttarakhand, has excelled in the implementation of the Right to Information Act, scoring 25 out of 27 points, standing first among 76 departments surveyed by the Uttarakhand Information Commission.