Campaigning ends for round one
Top cop says militants not silent, Gurez remains cut off
Srinagar, November 15
Campaign for the first phase of polling in 10 assembly segments of Jammu and Kashmir ended this evening, with the state's top cop saying the militants are not totally silent.
All arrangements in place for phase I: EC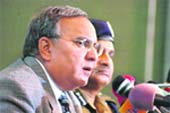 Jammu, November 15
As the state prepares for the first phase of polls on November 17, the authorities today claimed that all the appropriate arrangements have been made for the smooth conduct of elections.

Chief electoral officer B.R. Sharma addresses mediapersons in Jammu on Saturday. — Tribune photo: Anand Sharma

Mufti, Farooq trade charges

Rajouri, November 15
Exhorting the people to give the PDP an absolute majority in the ongoing elections, former chief minister Mufti Mohammad Sayeed today said the party would take the peace process to the logical conclusion if voted to power. Addressing public meetings at Poonch and Mandi towns along with prominent leader Yashpal Sharma in support of PDP candidate Imtiyaz Bandey, Sayeed said the PDP has initiated a movement to change fate of the people of Jammu and Kashmir through its visionary policies.
'BJP for one constitution'
Jammu, November 15
The BJP today said it would withdraw use of a parallel flag by the Jammu and Kashmir Government and stick to one-constitution norm, if voted to power, besides scrapping recommendations of various working groups in the state.
For them, poll a hope to unite with their families
Kerni (Poonch), November 15
Till a few years ago, the residents here refused to publicly admit family linkages in Pakistan across the Line of Control (LoC) simply to avoid being put on the "suspect" list of the security forces. Today, every other person is rattling out their list of relatives they have not seen since India and Pakistan were partitioned because these people remained in Pakistan-occupied Kashmir (POK). Now, the objective is common - to tell candidates that they will only get votes if they promise to help unite separated families.
NBP to contest 45 seats
Jammu, November 15
The National Bahujan Party (NBP) has decided to field its candidates in 45 constituencies, including 10 in the Kashmir valley. Its candidates had filed nomination papers in four Assembly segments in Kupwara district, out of which one was rejected in the Langet constituency.
BSP releases 37 names
Jammu, November 15
BSP general secretary Narinder Kashyap today released a list of 37 candidates.
ABVP's chetna rally ends
Jammu, November 15
The ongoing "chetna rally" of the ABVP's state unit concluded here today. The occasion marked the 44th state conference of the organisation at the Zorawar Singh auditorium of Jammu University.
Govt staff to observe strike on Nov 20
Jammu, November 15
Various state government employee outfits today decided to observe total strike on November 20 in support of their demand for implementation of the recommendations of the 6th Pay Commission here.
Awareness key to curb AIDS, says chief secy
Jammu, November 15
With incidences of HIV/AIDS on the rise, chief secretary S.S. Kapur has stressed upon the need of launching a sustained awareness campaign to curb the menace of AIDS.
Hajis protest as admn reschedules flight
Jammu, November 15
The Haj aspirants from Poonch and Rajouri who were scheduled to leave for the pilgrimage on November 16 by a special Air India flight had to face various hardships here as the authorities rescheduled their flight for November 26 without any intimation.
100 rescued in south Kashmir
Srinagar, November 15
Normal life, which was heavily disrupted due to heavy snowfall yesterday that stopped all traffic including air and snapped power supply, resumed in Srinagar today with weather gods smiling benignly.
Leh highway reopens; Keran, Karnah, Machil remain cut off
Srinagar, November 15
Traffic on the 434-km-long Srinagar-Drass-Leh National Highway resumed today after remaining suspended for a day yesterday due to heavy snowfall.
3 dead, 25 hurt in mishaps
Jammu, November 15
At least three people were killed and 25 injured in different road accidents in the last 24 hours in the Jammu region, police reports here today said.
4-kg IED destroyed in Baramulla
Srinagar, November 15
A joint team of the police, 52 Rashtriya Rifles and 53 Batallion of the CRPF detected a four kg improvised explosive device planted in a tin on the roadside at Delina in Baramulla. The IED was destroyed by bomb disposal squad of the police in nearby fields. No loss of life or damage to the property was reported in this incident.
Course on Dogra cuisines
Jammu, November 15
The Regional Study Centre of Indira Gandhi Open University (IGNOU) today introduced a short-term training programme, "Dogra Cuisines of J&K State", during a function held at the Zorawar Singh Auditorium in Jammu University.