MC wants publicity for health plan
Abohar, December 12
Some members of the Municipal Council today criticised the officials for their alleged "casual" approach in launching the "Rashtriya Swasathya Beema Yojna".
'Farmers should go for allied business'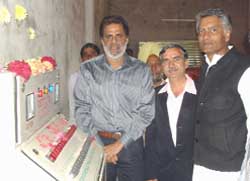 Abohar, December 12
While inaugurating kinnow grading and waxing plant near village Gidderanwali of the sub-division on Friday, the local legislator, Sunil Jakhar said that the farmers would have to switch over to allied business to survive in the farming sector.



MLA Sunil Jakhar (extreme right) and SDM N.S. Brar (left) inaugurating a kinnow grading plant in a village near Abohar on Friday. A Tribune photograph
One killed, 6 hurt in road mishap
Bathinda, December 12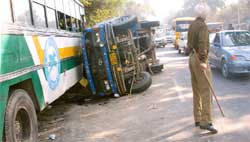 One person was killed while six sustained injuries when a canter turned turtle on Bathinda-Barnala road today. The deceased has been identified as Pargat Singh (32), son of Amar Singh, a resident of Khanna. The condition of one of the injured, Nabby Singh, is stated to be critical.
A mini-truck that overturned after it collided with a PRTC bus on the busy Bathinda-Barnala road on Friday. Tribune photo: Malkiat Singh
Father, son killed in mishap
Moga, December 12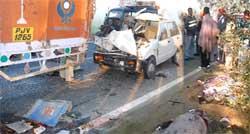 A man and his 19-year-old son were killed while three other women members of his family sustained serious injuries when a car in which they were travelling rammed into a stationary truck from rear, near Lohara circle on the outskirts of the town, early this morning.


The ill-fated car that rammed into a truck in Moga on Friday morning. Photo by writer
4 hurt in separate mishaps
Bathinda, December 12
Four persons sustained injuries in separate mishaps in the city today. They were hospitalised by the volunteers of the local Sahara Life Saving Brigade.
4 get 10-yr RI for smuggling poppy husk
Bathinda, December 12
J.S. Kular, Special Judge, on Wednesday sentenced four persons to rigorous imprisonment (RI) for 10 years and fine of Rs one lakh each in a case of poppy husk smuggling.
320 traffic challans settled at Lok Adalat
Bathinda, December 12
More than 320 traffic challans were disposed of during a special traffic Lok Adalat organised by the Legal Services Authority at the Judicial Complex here today. Kuldip Singh, District and Sessions Judge, supervised the same.
Pulse polio campaign
Officials asked to prepare micro-plan
Hanumangarh/Abohar, December12


Dr Manju Lata Sharma, Bikaner-based project officer for the National Polio Surveillance Project, funded by the World Health Organisation (WHO), today asked the officials to prepare separate micro-plan and conduct a survey to ensure overwhelming response to the pulse polio vaccination campaign.
A meeting concerning Pulse Polio programme in progress in Hanumangarh on Friday.
A Tribune Photograph
Lending a helping hand
Deserted kids: Samiti plays good samaritan
Abohar, December 12
Senior members of the Bal Kalyan Samiti today visited Eklavya Ashram and gave readymade garments, toys and other essential goods to three children, who had recently been found weeping in a compartment of the Ahmedabad-Jammu Tawi train at Hanumangarh railway station and were handed over to the Ashram by the administration.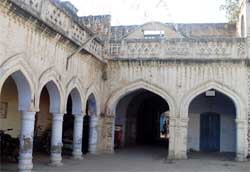 Police Lines to be shifted
Mansa, December 12
The Police Lines in Mansa, which is being run from an old and dilapidated dharmashala, would soon be shifted to a new building, being constructed at Mansa-Tuthian Wali road near the water works.




The building which presently houses Police Lines in Mansa.
Punjab State Primary School Games
Day II: Navdeep, Kiran emerge winners in long jump
Bathinda, December 12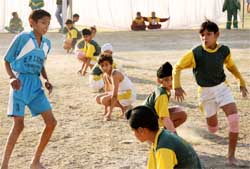 Ludhiana beat Amritsar in kabaddi (girls) competition on the second day of the Punjab State Primary School games being held at the Sports Stadium here today. While Sangrur prevailed over Patiala in kabaddi (girls), Muktsar went down to Patiala in kho-kho.



A Kho-Kho match in progress during the Punjab State Primary School Games at the sports stadium in Bathinda on Friday. Tribune photo: Kulbir Beera