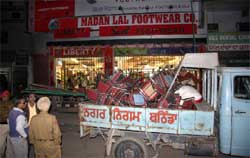 Municipal Corporation officials seize the chairs and the tents, which a shoe store owner had pitched on the Goniana road in Bathinda on Wednesday. The newly-built road was damaged by the shop owner while pitching the tents. Tribune photo: Kulbir Beera
Posts in education dept lying vacant
Mansa December 10
Over 75 per cent posts of administrative officers and 50 posts of superintends in the education department in Punjab have been lying vacant for about two years.
Farmers peeved about plummeted potato price
Bathinda, December 10
About 75,000 hectares of land would be utilised for potato cultivation in the state this rabi season and a total expected output stands at 16 lakh metric tonnes. Last year, about 77,000 hectares of land was under potato cultivation in the state.
Farmers seek cut in fuel prices
Abohar, December 10
The Bhartiya Kisan Union (Ekta Ugrahan) today a organised dharna at the sub-divisional complex to express resentment over marginal relief given by the Central government in fuel prices.
UP IN ARMS: Farmers under the banner of BKU staging a dharna in support of their demands, including further cut in fuel prices, at the mini secretariat in Bathinda on Wednesday. Tribune photo: Malkiat Singh
Mini-bus operators stay off road, stage dharna
Bathinda, December 10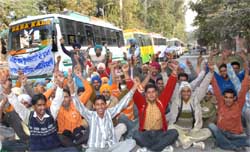 To protest against the alleged practice of some students not taking the travelling tickets, the mini-bus operators of the region staged a dharna in front of the deputy commissioner's office outside the mini-secretariat here today. During the dharna, the members of the Mini-bus Operators' Union, Rampura Phul, said the bus service was affected yesterday and it would be suspended even tomorrow.
Members of the Mini-bus Operators' Union staging dharna outside the mini-secretariat in Bathinda on Wednesday. Tribune photo: Malkiat Singh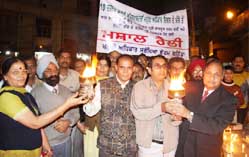 'Safeguard rights of humans'
Hanumangarh/Abohar, December 10
The International Human Rights Day was observed by organising seminar at the district collectorate in Hanumangarh today.


Members of the Human Rights Protection Forum organised a torch procession in Bathinda to mark the International Human Rights Day on Wednesday. They also staged a protest against terror attacks in Mumbai on the occasion. Tribune photo: Kulbir Beera
Army pension adalat from Dec 18
Bathinda, December 10
A two-day defence pension adalat for the retired soldiers of Punjab would be held at Ferozepur on December 18 and 19.
'Don't emulate US-economic model'
Mansa, December 10
India needs independent economic and foreign policies as the economic model of the USA, which was modelled by the Indian government, had been failed. America has been facing serious economic crisis so there is a need of making the policies according to Indian situation. This was stated by the national secretary of CPI (ML) Deepankar Bhattacharya. Deepankar was addressing party workers today at a meeting held at party headquarters here. He further emphasised the need of fighting against terrorism and communal forces which had been creating a danger for the national unity and integrity. He also said that problems, including unemployment, poverty and illiteracy were needed to be solved on priority basis.
Eklavya Ashram comes to the rescue of 'deserted' kids
Hanumangarh/Abohar, December 10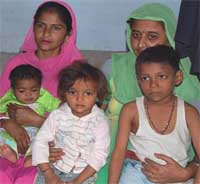 Female members at the Eklavya Ashram are playing as mothers to three children who were abandoned by their parents at the Hanumangarh railway station. One of them needed mother feeding too. The railway authorities on finding them weeping had informed the administration which requested trustees of the Eklavya Ashram to give shelter and food for the time being to them.


Kids who had allegedly been deserted by their parents at the Hanumangarh railway station with members of Eklavya Ashram. Photo: Raj Sadosh
Notice pasted on martyr's memorial irks residents
Hanumangarh/Abohar, December 10
Memorial to Shaheed-e-Azam Bhagat Singh in Tibbi area of Sangaria Assembly segment is being defaced by pasting notices, residents resent.



A notice pasted on the memorial of Shaheed-e-Azam Bhagat Singh in Tibbi area of Sangaria.
Notorious female simian nabbed
Abohar, December 10
Shooter Ram Dev from Chatbeer zoo today succeeded in nabbing the female monkey along with her child by firing at them injections containing sedatives as they troubled in the municipal town hall.
2 held for lifting vehicles
Abohar, December 10
Having been under pressure over spurt in incidents of theft of bicycles, motorcycles and cars outside marriage places besides purses, the city police today arrested two persons and recovered three bicycles from them.
SGN Khalsa College clinches title
Sriganganagar/Abohar, December 10
The SGN Khalsa College, Sriganganagar and the SBS College, Raisinghnagar were declared winner and runner up respectively in boys category in the inter-college Judo tournament that was organised by Shaheed Bhagat Singh College, Raisinghnagar for the institutions affiliated to the Bikaner University, principal B.S. Narula informed today.
Accused surrender before RPF
Bathinda, December 10
After playing hide and seek for over a month, the seven accused in a case registered for disrupting the rail traffic on the Ambala-Sriganganagar railway track surrendered before the Railway Protection Force (RPF) here today. Later, the RPF authorities released them on bail after they furnished a bond of Rs 5,000 each.
Rly to deploy commandos at major stations
Bathinda, December 10
Alarmed by militants storming the Chhatrapati Shivaji Terminus (CST) in Mumbai, the Indian Railways have decided to raise a commando force to protect the major railway stations across the country.
Time to alter attitude towards orchestra girls
Bathinda, December 10
The wedding season is on and people involved in business related to weddings are having their hands full. Indian parents save money for their child's wedding from the day of its birth. Many would spend anything on a wedding to make it a grand show. While doing all this, some resort to things that draw contempt of a majority of people. There are several such issues but the one that stands strikingly out is inviting a group of people, especially girls, to dance on a stage put up for the purpose while the ceremonies are on. For some, it is a normal thing and just a sort of attraction for guests, especially for the men who get drunk. But there have been incidents of misconduct at weddings.
Pulse polio campaign begins on Dec 21
Bathinda, December 10
The district health department has prepared itself for the three-day-long Pulse Polio campaign to begin in the district on December 21 for the children below the age of five years. In this regard, Ajitpal Singh, District Immunisation Officer, convened a meeting of medical officers here today.