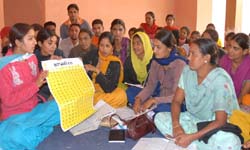 A Pratham Block Coordinator explaining a teaching technique to members of the Pratham, an NGO supporting the Padho Punjab campaign, at the Teachers' Home in Bathinda on Sunday. Tribune photo: Malkiat Singh
Plea to promulgate law that asks for HIV test before wedding
Bathinda, November 30
It was believed that around five million people were HIV+ in India but a national household survey stated that there are over 2.4 million people who are affected by this disease physically. The number of people affected by this disease in other ways goes up very high. The first case of AIDS in India was detected in 1986. Since then, many cases have been reported in all states and Union Territories.
Corporal punishment frowned at in schools, what about home?
Bathinda, November 30
The age-old maxim 'spare the rod and spoil the child' still has many takers today in spite of the Supreme Court banning corporal punishment in December 2000. The court had banned it only in schools but unfortunately, corporal punishment is not limited just to schools, it is meted out in almost every Indian home.
Party clears air over Romana's replacement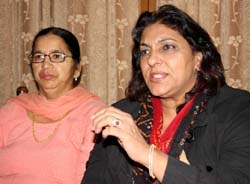 Bathinda, November 30
Gurkamal Kaur, president of the women's wing, Punjab, visited the city today on her way back from Rajasthan and announced that Ranjeet Kaur Romana, president of women's wing, Bathinda, being replaced by Amarjeet Kaur (ex-municipal councillor, Pratap Nagar) was a rumour. There were doubts that Harminder Jassi (MLA) and Ashok Kumar, president of city Congress, had made Amarjeet Kaur the president of city's women cell.

President of the Congress' Punjab Women's Wing Gurkamal Kaur (right) addressing media in Bathinda on Sunday. She is flanked by Ranjit Kaur Romana, president of the local branch. Tribune photo: Kulbir Beera
'Unity must to combat terrorism'
Mansa, November 30
"Terrorism should be fought unitedly by rising above political and religious affiliations," said Hardev Singh Arshi, National Council member of the CPI, while addressing a gathering on the occasion of the death anniversary of Dharam Singh Phakhar at Dalel Singh Wala village today.
250 girl students trained in first aid
Bathinda, November 30
As many as 250 students were imparted training in first aid at a 15-day-long camp organised by the Khalsa Girls Senior Secondary School here with the assistance of the United Welfare Society and the Red Cross. On Saturday, the concluding day of the camp, the blood groups of nearly 150 students were tested free of cost.
Rajasthan elections
Landslide win for Cong: Babbar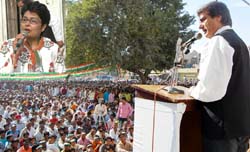 Hanumangarh/Abohar, November 30
Having disappointed fans a few days back by not keeping the date for campaigning, film star-turned- parliamentarian Raj Babbar, who had joined the Congress a few months back, today attracted an enthusiastic crowd in Sangria as he finally arrived to address an election rally in favour of the party candidate Param Navdeep.

Film star-turned-parliamentarian Raj Babbar and Congress candidate Param Navdeep (inset) addressing a rally in Sangria on Sunday. Photo: Raj Sadosh
Controversy haunts BJP candidate
Sriganganagar/Abohar, November 30
Controversy further haunted the election campaign of BJP candidate Gurjant Singh Brar who had earlier been elected from Sangria constituency but this time opted to contest from Sadulshehar due to the delimitation exercise.
Dera followers resolve to support Congress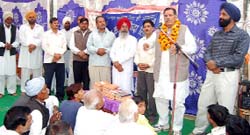 Sriganganagar/Abohar, November 30
In a decision of far reaching implications, the Dera Sacha Sauda followers, in one of the important assembly segment, Suratgarh, in Sriganganagar district, today unanimously resolved to extend support to the Congress candidate Ganga Jal Meel in the ensuing Assembly elections.

Congress candidate Ganga Jal Meel addressing a gathering at Dera Sacha Sauda Naam Charcha Ghar in Suratgarh on Sunday. A Tribune photograph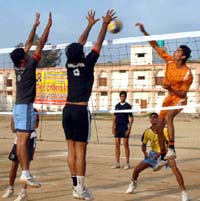 Players of DAV College, Bathinda, and village Kot Sameer, vying for the ball in the District Volleyball Championship at the MGDAV College in Bathinda on Sunday. Tribune photo: Malkiat Singh
Ex-jawans seek VAT-free items
Mansa, November 30
Ex-soldiers have demanded that items which are provided through canteen should be freed from VAT that is levied at four per cent. They said that VAT was levied at one per cent in Chandigarh and was nil in Himachal Pradesh.
Education in shambles
State schools sans principals
Fazilka, November 30
Mismanagement and lack of a permanent policy for promotion in the education department of Punjab has resulted in such a situation that about 90 per cent of the Senior Secondary schools in Punjab are without regular principals. In Ferozepur district alone, 97 per cent of the schools and both the senior secondary schools of Fazilka town are without principals.
Labourers to launch stir from Dec 10
Mansa, November 30
The Mazdoor Mukti Morcha has decided to launch a campaign in favour of demands of labourers from December 10. The Morcha would hold dharnas at the block, tehsil and district level from December 10 to January 10.
Meghwal Samaj office-bearers appointed
Abohar, November 30
Om Parkash Manda of village Bhagsar in this sub-division, who had been nominated as president of the Punjab state unit of Meghwal Samaj Sangh, today completed the formation of the state working committee.