Rajasthan going to polls, smuggling of narcotics on rise
Abohar, November 26
A spurt in smuggling of narcotics during days of electioneering in the neighbouring areas has alerted the police on both sides of the inter-state border. Anti-Goonda staff in-charge Chhinder Singh nabbed one Sandeep Deepa, a Nai Abadi resident, with 600 gm of smack during patrolling in the infamous government seed farm area today.
Pay Commission: Ex-servicemen take to streets
Ludhiana, November 26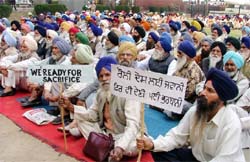 Hundreds of ex-servicemen, along with war widows from all over Punjab, including Chandigarh, gathered here today to be a part of the protest rally being organised under the banner of the Indian Ex-Services League. The agitators, which included senior citizens, were upset from the attitude of the Central government and said they never wanted to stand against the nation for which they had fought.
Fighting another battle: Ex-servicemen during a protest rally in Ludhiana on Tuesday. Photo: Inderjeet Verma
'World has more obese persons than hungry ones'
Bathinda, November 26
VLCC organised a dietary guidance camp to mark Anti-Obesity Day here today. Patients enrolled in weight loss programmes, including bariatic surgery, were given tips on reducing the weight during the camp.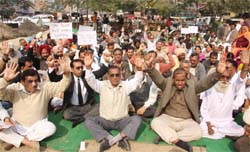 Members of Hindu organisations protesting against the Central Government's policies in Bathinda on Wednesday. Tribune photo: Kulbir Beera
Rlys to install passenger coach guidance system
Bathinda, November 26
For the convenience of rail passengers, Railways have introduced a Passenger Coach Guidance (PCG) system at Ambala railway station which is a first-ever in Indian Railways. Talking to TNS over phone from Ambala, R.K. Saxena, assistant divisional railway manager (ADRM), Ambala division, said that the exact compositions of incoming and outgoing trains are fed into a PC and alternating display made on the platforms indicating the train number as well as coach number.
Army lends helping hand to war widows


Bathinda, November 26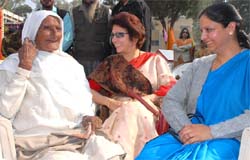 The Bathinda Military Station organised a 'Veer Nari' meet today where Rama Katoch, officiating president, Chetak AWWA, presided over the meet. Brig Bant Singh, vice-president of District Sainik Board was also present among other retired officers. War widows of Mansa and Bathinda were present on the occasion.
Rama Katoch and Jyotika Singh (right) speak to Bachchan Kaur, whose husband died in the Second World War, at the Veer Nari meet on Wednesday. Tribune photo: Malkiat Singh

'In-laws refused to keep me'


'My eyes have got old waiting for him'


'Being forced to leave husband's village'
One killed after shootout in Maur Mandi
Bathinda, November 26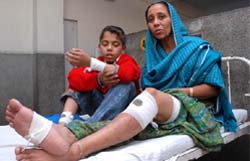 One person was killed and seven others injured, including two women and a 10-year-old boy, in a shootout between two groups in Maur Mandi last night.





An injured Rupinder Kaur along with her son Tanvir at the civil hospital in Bathinda on Wednesday. Tribune photo: Malkiat Singh
Gang of chain snatchers busted
Bathinda, November 26
The Bathinda police today claimed to have busted a gang of chain snatchers and arrested four persons in this connection. SSP Aashish Chaudhary said two motorcycles, mobile phones and gold ornaments had also been recovered from the four accused, who were arrested from the Bir Talab area.
DAV College girls excel at Red Cross camp
Abohar, November 26
Girls studying in science, commerce and IT classes in the DAV College here have now excelled at Red Cross camp. They had earlier brought laurels in the activities related to the National Service Scheme (NSS) besides youth festivals and recently-formed separate NCC unit as well.
Horticulturists form association
Abohar, November 26
Leading horticulturists and owners of fruit grading and waxing units from different parts of the state today assembled here to form the Punjab State Association of Kinnow Waxing and Grading Plants. IFFCO chairman and progressive grower Surinder Kumar Jakhar was unanimously elected as the president of the organisation.