Vth Virasat Mela comes to an end
Rural Punjab comes alive at grand finale
Bathinda, November 23
Jaipalgarh village today witnessed the grand finale of the Virasat Mela, which was celebrated with unprecedented enthusiasm and exuberance at the Sports Stadium here today.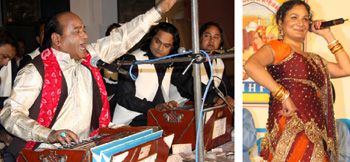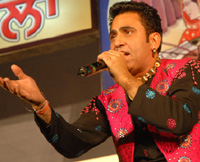 (From left) Mehar Ali, the qawwal from Pakistan, performing at the Virasat Mela in Bathinda late on Saturday night. Punjabi folk singers Satwinder Bitti and Sarabjit Cheema performing on the concluding day of the fair on Sunday. The singers enthralled the audience with their foot-tapping numbers. Tribune photos: Kulbir Beera/Malkiat Singh
Was fee paid for using mela venue?
Bathinda, November 23
Political big-wigs and others made an appearance at the much hyped Virasat Mela and that is the reason why the sports stadium used for organising the mela was taken for granted.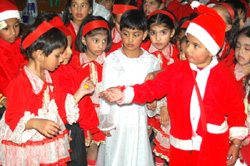 Children perform at the silver jubilee celebrations of the St. Xavier's School in Bathinda on Saturday. Tribune photo: Malkiat Singh
Pollution major risk factor for heart diseases
Bathinda, November 23
Smoking, obesity and high cholesterol are known high risk factors for heart diseases but recent studies indicate that environmental pollution is also a major contributor towards the disease.
Lensmen condemn attack on colleague
Bathinda, November 23
Press photographers in Bathinda today condemned the alleged attack on a photojournalist by some miscreants at a gurdwara in Partap Nagar when he was taking shots of a gurdwara following ruckus over the alleged rape of a minor by the granthi of the gurdwara today in the afternoon.
'My visits have nothing to do with politics'


Ferozepur, November 23
In order to mobilise the Akali cadre for serving " langar" at the Sri Harmandir Sahib, Amritsar, Surinder Kaur Badal, wife of the Chief Minister Parkash Singh Badal today visited the historic Gurudwara Jamni Sahib, Vajidpur, 12 kms from the district headquarters, where she addressed a huge gathering comprising Akali leaders, office-bearers and workers belonging to Ferozpur block.

Surinder Kaur Badal, wife of chief minister Parkash Singh Badal, addressing Akali workers at the historic Gurdwara Jamni Sahib in Ferozepur on Sunday.
A Tribune photograph
Rajasthan polls
DC issues notices to 13 micro-observers
Hanumangarh/Abohar, November 23
The Election Commission (EC) has decided to follow the Gujarat pattern to ensure free and fair elections in Rajasthan, election observers informed the micro-observers during a training camp held in Shiv Mandir cinema hall at Hanumangarh on Sunday.
Merchant of Venice magic revisited
Abohar, November 23
The DAV College here last evening organised an extension lecture by Prof. Kuldeep Sharma of Riyat College of Law to discuss William Shakespeare's play "Merchant of Venice" in the seminar hall.
Physically challenged dies as van hits tricycle
Abohar, November 23
A physically-challenged man was killed as a Bolero van hit his tricycle on the Seetogunno bypass here on Saturday night.
20-20 National Open Cricket Tournament
Sandhu XI defeats PSEB in nail-biting finish
Abohar, November 23
The PSEB team is out of the 20-20 National Open Cricket Tournament being held at the Nehru Stadium here since November 9. In a nail-biting match, the team lost to the Sandhu XI, Ludhiana by six runs in the quarter-final that was played on Sunday.
Democratic Employees Front flays DEO office
Mansa, November 23
The Democratic Employees' Front has criticised the DEO office for not checking the experience certificates of teachers and service providers properly at the time of their selection.
SFI to hold state-level conference
Mansa, November 23
Punjab and Chandigarh unit of Students Federation of India (SFI) has decided to hold its 22nd state level conference at Sunam on February 4,2009. Informing about this state general secretary of organization Swarnjit Singh Dalio said that this decision was taken during the state committee meeting, which was held at Patiala recently.
Mansa's mini-bus operators to go on strike on Dec 20
Mansa, November 23
During a meeting held here the Mini-bus Operators' Association has decided to support the strike called by the All India Motor Transport Congress on December 20.
Man commits suicide
Mansa, November 23
A man, farmer by profession, committed suicide by hanging himself from a tree in Ram Nagar Bhattal village here on Saturday.
Two drowned as van falls into canal
Mansa, November 23
Two persons were drowned as the van they were travelling in fell into a canal at Burjharike village on Saturday. The deceased were siblings and were on their way to Mansa in a Bolero van when it went out of control and fell into the Kotla branch canal.
Five hurt in road accident in Mansa
Mansa, November 23
Five persons were injured in a road accident in Mansa today. According to information available, a tractor-trolley, coming from Sardulgarh side to Mansa was hit by a canter, coming from the same side.