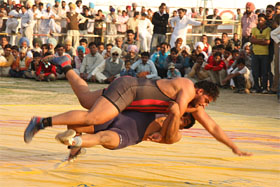 Trial of strength: A wrestling match in progress at the Vth Virasat Mela in Bathinda on Saturday. Tribune photo: Kulbir Beera

PSEB union members wave black flag at Sangat Darshan
Bathinda, November 22
Employees of the Punjab State Electricity Board (PSEB) today greeted the chief minister Parkash Singh Badal with black flags when he reached at Goniana to hold Sangat Darshan here.
Primary games fail to begin, kids disappointed
Bathinda, November 22
Every year, the state government holds state-level games for primary section in the first week of November. But this year, in spite of the government issuing letters to schools, nothing has happened. The schools received letters stating the schedule that the games would take place from November 14-16, but the games did not take place.
Pak qawwal not allowed to visit native town


Bathinda, November 22
Mehar Ali, a renowned Pakistani qawwal, was upset as he was not being allowed by the authorities to visit his native town of Bhadaur in the Barnala district near here to offer prayers on the grave of his grandfather. He has come here for the first time to take part in the Virasat Mela this evening and it was his "desire" to visit Bhadaur where many of his relatives reside. His grandfather and some other members of the clan lay buried in the graveyard there.
Fake currency case
Cop held, sent on police remand
Moga, November 22
The local police has arrested a head constable of the Punjab Police posted in the Indian Reserve Battalion (IRB) at Ludhiana in the fake currency case that was registered at the police station (south) here on November 1.
Rajasthan poll observers, candidates to meet today
Sriganganagar/Abohar, November 22 Election observers Praveer Krishan, joint secretary, Health, Delhi, and G.D. Aruna, additional secretary, Andhra Pradesh, will speak to the candidates of all the constituencies of district on Sunday morning at Sriganganagar in the collectorate, DC Bhawani Singh Detha informed this evening.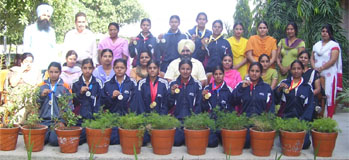 Students of Dasmesh B.Ed College, Badal village, who excelled at the Panjab University Athletic Championship for women (B.Ed) — 2008 along with the principal and the staff. A Tribune photograph

TechNet-2008
'Don't sacrifice humanity in tech race'
Abohar, November 22
"Going on is the era of information and technology. The technology has led us to an extent where man is trying to overpower the conditions, under which the universe took its present status," said the former minister Sajjan Kumar Jakhar, while speaking at the inaugural session of TechNet-2008, organised by the LRS DAV Senior Secondary School here on Saturday.
Annual sports day
Amandeep, Prabhjot adjudged best athletes
Abohar, November 22
Amandeep and Prabhjot Kaur were adjudged best athletes among boys and girls respectively on the annual sports day of Jhamku Devi Senior Secondary School at village Dhora Mehrajpur today.
10 held in Mansa for carrying illegal arms
Mansa, November 22
At a post set up near local bus stand on Friday, the police has recovered a country-made pistol and three cartridges. A case has been registered and ten persons have been arrested in this regard.
Jubilee celebrations
Bathinda, November 22
St. Xavier's School, Bathinda, celebrated its silver jubilee today. But chaos loomed large at the function. Parents were made to wait at the school gate. Press photographers were not allowed to click pictures, the reason cited being that they were blocking the way of the chief guest and dignitaries.
One killed in road mishap
Abohar, November 22
One Mahabir of Jandwala village was killed while two others sustained injuries as two motorcycles collided head on Abohar-Fazilka road late in the evening on Saturday, sources said.