Village sans panchayat loses out on benefits
Bathinda, November 25
A village on the outskirts of the city could not avail of the benefits given by the government for development because it did not have its panchayat for the past almost six months.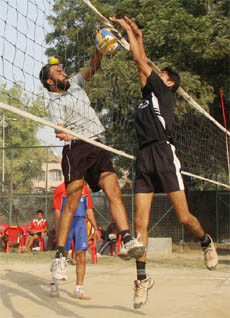 A match in progress during the district volleyball championship being held at the Government Rajindra College in Bathinda on Tuesday. Tribune photo: Kulbir Beera

State teachers seek salaries
Fazilka, November 25
Thousands of teachers and employees of government-aided schools in the state have not been paid salaries for the past five months now.
Ande Ka Funda
High input cost may fuel hike in chicken, egg prices
Bathinda, November 25
After essential commodities like edible oil, cereals and other food items, it is the turn of staple items like chicken and eggs to get dearer. Due to increase in the prices of poultry feed, the prices of eggs and chickens may go up soon.
Rajasthan polls
Cong steps up campaign, PM to address rally on December 1
Hanumangarh/Abohar, November 25
By fixing Prime Minister Manmohan Singh's election rally on December 1 morning, the Congress has recognised the credibility of its potential candidate, Vinod Kumar, who is the only winner among 11 nominees during the last Vidhan Sabha election in Hanumangarh and Sriganganagar, braving anti incumbency wave, political pundits said today.
20-20 National Open Cricket Tournament concludes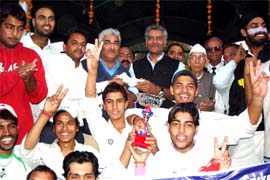 Sandhu XI lifts trophy
Abohar, November 25
Sandhu XI Ludhiana won the 20-20 National Open Cricket Tournament by tie-breaker as Kings XI Patiala too scored 126 in 20 over in the grand finale at Nehru Stadium here late in the evening.
Got It ! : Jubilant members of the Sandhu XI after getting the trophy and a cash prize of Rs 51,000 from MLA Sunil Jakhar as winners of the 20-20 National Open Cricket Tournament in Abohar on Tuesday evening. Photo: Raj Sadosh

Cong MLAs flay Brar for 'irresponsible' statements
Abohar, November 25
Former Lok Sabha member and special invitee to the AICC Jagmeet Singh Brar today came under fire from two close associates of former CM Capt Amarinder Singh, who now heads party's election campaign committee.
'Langar sewa campaign only a political gimmick'
Abohar, November 25
While terming the 'langar sewa' campaign launched by Surinder Kaur Badal, wife of chief minister Parkash Singh Badal, as a well-hatched political gimmick, Congress legislators Sunil Jakhar and Rana Gurmeet Singh Sodhi said she was pursuing a political agenda under the guise of 'langar sewa', which was the job of the SGPC otherwise. They were addressing a press conference here today.
Cyber café owners told to maintain records
Fazilka, November 25
To avoid misuse of cyber café, the administration has decided to enforce some directions on their owners. In this regard, the city police held a meeting with the owners today.
Cotton ginners on strike
Bathinda, November 25
Cotton ginners of the state today joined the two-day strike called by various ginners associations of the country against the high minimum support price (MSP) of cotton fixed by the Centre.
Youth fest: Girls win laurels for college
Bathinda, November 25
The students of Dasmesh Girls College of Education, Badal, brought laurels to the college by bagging 19 prizes in the Zonal Youth and Heritage Festival, held at Lala Jagat Narayan College of Education, Jalalabad and four prizes in Inter Zonal Youth and Heritage Festival of Punjab University, Chandigarh held at Guru Nanak National College, Doraha.
LIC staff protest FDI ceiling
Bathinda, November 25
The class III employees of the Life Insurance Corporation (LIC) of India held a demonstration in front of the LIC's regional office here today. They were protesting against the decision of the Central Government to raise the ceiling for foreign direct investment (FDI) in the insurance sector from 26 to 49 per cent. The call for the strike was given by the All-India Insurance Employees Association.
LS polls
CPI to contest without ally at Bathinda, Faridkot
Mansa, November 25
The Communist Party of India (CPI) has decided to contest two seats of Lok Sabha, namely Bathinda and Faridkot, without any alliance, said national executive member of the CPI Dr Joginder Dyal, while addressing a district council meeting here on Monday.
One held with sedatives
Fazilka, November 25
The local police patrol party nabbed a person near Sanjeev cinema and recovered sedatives, including 16,056 capsules and 6,900 tablets, from his possession.
Man commits suicide
Bathinda, November 25
Balwinder Singh, a resident of Deep Nagar, committed suicide by jumping before a running train here this morning.
9 hurt in mishap
Bathinda, November 25
A bus collided with a canter on the Bathinda-Goniana road near Adarsh Nagar. Nine bus passengers were injured and were rushed to the civil hospital by workers of an NGO. — TNS