Farooq richest among ex-CMs seeking mandate
Srinagar, December 23
NC patron Farooq Abdullah is the richest among three former Chief Ministers seeking mandate in the ongoing state Assembly elections.
NC seeks repoll in Doda
Jammu, December 23
After allegations of rigging by the BJP and the BSP, the NC too demanded repolling at 12 polling stations in Doda district, where elections were held on December 17. "We demand repolling at 12 polling stations as there was rigging and bogus voting on the directions of Congress workers in the Bhaderwah Assembly segment in Doda district," senior NC leader and candidate from the Bhaderwah Assembly constituency Mohammad Aslam Goni alleged.
Advt 'ploy to confuse' voters
Jammu, December 23
Peeved over an advertisement that appeared in a section of media, NC rebel Balbir Singh Manhas, who is contesting as an Independent candidate from Nagrota, has described the entire exercise as a ploy to confuse voters.
Vote for educated leaders, students told
Jammu, December 23
Skies Club has urged students to cast vote in favour of young and educated leaders in the ongoing state Assembly elections.
High turnout snub to separatists
Jammu, December 23
It was only a couple of months back that apprehensions were being raised regarding the voter turnout in light of the separatists' call for poll boycott. However, a record number of candidates, scores of election rallies and above all a massive voter turnout have come as a jolt to secessionists.
134 stranded passengers airlifted
Srinagar, December 23
Passengers stranded at Bandipore and Gurez in north Kashmir were airlifted to their respective destinations by a helicopter service by the Bandipore district administration today.
Srinagar under security cordon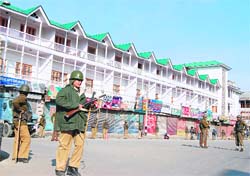 Srinagar, December 23
Thousands of police personnel and troops took up positions across the summer capital today as the government made final preparations on the eve of polling in eight constituencies in the final phase tomorrow.
With polling due in the last phase on Wednesday, the CRPF has intensified patrolling in Srinagar to ward off anti-poll protests. Restrictions under Section 144, CrPC, have also been in place in the summer capital. Tribune photo: Mohd Amin War

Army chief visits Siachen
Jammu, December 23
Amid heightened tension between India and Pakistan following the Mumbai terror attack, Chief of Army Staff General Deepak Kapoor today visited the Siachen Glacier and forward areas to check the operational preparedness of the force.
Measures to tackle highway blockade
Srinagar, December 23
Various measures to tackle any situation arising from inclement weather conditions and closure of the Srinagar-Jammu national highway due to heavy snow or rain were discussed at a meeting of officers here today. The meeting of Disaster Management Committee with the adviser to Governor, Sudhir S. Bloeria, in chair discussed the measures, an official spokesman here said.
5,000 officials on poll duty
Srinagar, December 23
About 5,000 officials of the state government and those from outside the state are being deployed on poll duty in eight Assembly constituencies spread over Srinagar district going to the polls in the last phase of elections in Jammu and Kashmir tomorrow.