Novel protest by Yoga trainers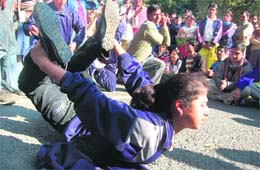 Dehradun, December 28
Yoga-trained youth held a peaceful rally here today demanding appointment as yoga teachers and coaches in schools and government departments. The rally began from Gandhi Park and ended at Chief Minister's residence where a memorandum was also submitted to him.
Yoga teachers stage a protest outside the Chief Minister's residence in Dehradun. Tribune photo: Anil P. Rawat
Girlfriend, fiance held for warrant officer's murder
Dehradun, December 28
Within hours, the Dehradun police claimed to have solved the murder case of a warrant officer Sunder Swaroop alias Himanshu of Garhi Cantt. The police arrested Aparna Shahi and her fiance Ankit from Mussoorie for killing Sunder, her boyfriend.
Like father, like son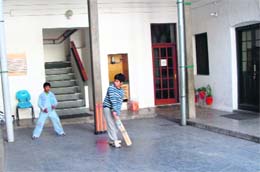 Master Blaster Sachin Tendulkar's son Arjun plays cricket with kids at Woodstock School in Mussoorie. Tribune photo: Anmol Jain
Tatas get 45 acres more for Nano
Dehradun, December 28
Tata Motors' delayed Nano project has got a boost with the Uttarakhand government providing the company an additional 45 acres of land at its Pantnagar facility.
Fog cripples train services
Dehradun, December 28
Train services were badly affected after a thick layer of fog enveloped the city yesterday morning. Several trains passing through the city ran behind schedule with the delay stretching up to 10 hours in some cases, railway sources said.
Office-bearers of Sikh Society installed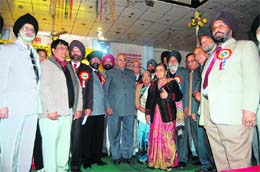 Dehradun, December 28
Doon Sikh Welfare Society today conducted its 29th installation ceremony where the new executives led by Manmohan Kapoor took oath of office. Installing new executives for the year 2009, Uttarakhand Speaker Harbans Kapoor said the Doon Sikh Welfare Society has a long history of service to the poor and needy.
The newly installed executive of Doon Sikh Welfare Society with Uttarakhand Speaker Harbans Kapoor. Tribune photo: Anil P. Rawat
Gurukul clinch hockey title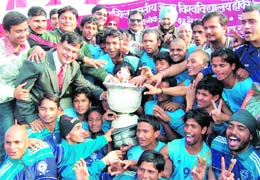 Haridwar, December 28
Gurukul Kangri University defeated Panjab University in the National Inter-University Hockey Championship being played at the Dayanand hockey stadium, here today. The match was closely contested with both teams relying on fast paced moves and attacks from both the wings but in the end, Gurukul romped home with a 6-4 margin.
The victorious Gurukul Kangri university team with the general secretary of the Indian Olympic Association Randhir Singh in Haridwar on Sunday. Tribune photo: Rameshwar
Arpit stars in CN Club's victory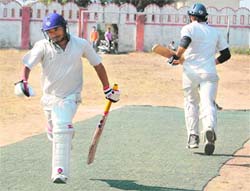 Dehradun, December 28
Arpit's all-round performance helped CN Club register a thumping victory over DL Cricket Club by 126 runs at the 57th District Cricket League at Survey Stadium here today. Arpit scored 74 runs and took three wickets. Winning the toss and electing to bat, CN Club made 218 runs in the allotted 40 overs.
CN club batsmen cross over while taking a run in the District Cricket League match against DL Cricket Club in Dehradun on Sunday. Tribune photo: Anil P. Rawat
Football: Bajrang, Gorkha Rifle win
Dehradun, December 28
Bajrang team and 2/3 Gorkha Rifle won their respective matches today at Karag Bahadur Memorial Football tournament underway at Sri Guru Ram Rai Inter-College, Nehru Gram, Dehradun.