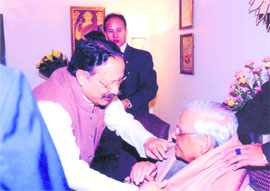 Uttarakhand Chief Minister Maj Gen (retd) BC Khanduri greets former Prime Minister Atal Bihari Vajpayee on his birthday in New Delhi on Thursday. A Tribune photograph

Development Efforts
CM tells migrants to pitch in
Dehradun, December 25
Chief Minister Maj Gen (Retd) BC Khanduri today exhorted people who hail from the state but reside outside to contribute for the progress of Uttarakhand. While addressing a huge gathering at the annual function of Uttaryani, an organisation being run by non-resident Uttarakhandis at New Delhi today, Khanduri said all those hailing from Uttarakhand should work for the development of the state.
BJP leader shot dead
Roorkee, December 25
Local BJP leader Nawab Singh (47) was today shot dead at his residence in village Mandawar, around 25 km from here. The incident occurred at around 5.30 am. Nawab Singh, survived by his wife and two children, had joined the BJP a few years back. The police said Nawab Singh was returning from the outer house of his residence after visiting his relative, when four persons fired four shots at him from close range, killing him on the spot.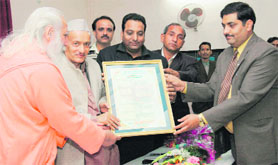 Udham Singh remembered on 109th birth anniversary
Dehradun, December 25
The 109th birth anniversary of martyr Udham Singh Kamboj was observed in Dehradun today. Speakers on the occasion recalled the supreme sacrifice made by him for the cause of the nation.
MP BS Koshiyari and Mayor Vinod Chamoli at the birth anniversary celebrations of Udham Singh in Dehradun on Thursday. A Tribune photograph
Police recruitment: Now, applications till Jan 19
Dehradun, December 25
The Uttarakhand Congress Committee has thanked Governor B.L. Joshi for asking the state government to extend the date for submission of forms for recruitment in the state police by January 19 which the state government has done.
Hockey C'ship at Gurukul
Crying foul, B'lore varsity march off
Haridwar, December 25
The second day of the National Inter-University Hockey Championship at Gurukul University saw some aggressive hockey from the players.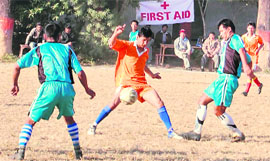 Kukhri Club pip Gorkha Rifle
Dehradun, December 25
Kukhri Club defeated 1/3 Gorkha Rifle 3-2 in the tiebreaker to win the inaugural match of the Karag Bahadur Memorial Football tournament that got under way at Sri Guru Ram Rai Inter-College, Nehru Gram, here today.
A player tackles the ball at the inaugural match of the Shaheed Kharak Bahadur Memorial Football tournament in Dehradun on Thursday. Tribune photo: Anil P. Rawat

PNB starts inclusion project
Dehradun, December 25
The managing director of Punjab National Bank, Dr. KC Chakrabarty, yesterday launched the bank's first financial inclusion project in Uttarakhand. The project has been initiated on pilot project basis in Vikasnagar, Dehradun. Later, addressing the media, Dr. Chakrabarty said that with a network of 50 branches in Dehradun, PNB has always made its best efforts to extend help to people.
Vijay Raj Bhatt, Ravi Rawat win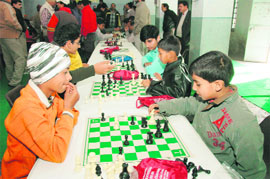 Dehradun, December 25
The three-day chess championship organised by the Chess Federation of Uttarakhand started in Dehradun today. Inaugurating the championship, president of the federation, Suryakant Dasmana, paid his tributes to martyr Gajendra Singh Bisht, who laid down his life while fighting terrorists in Mumbai. The competition is being organised in the senior, junior and sub-junior categories.
Students at a chess competition in Hindi Bhawan in Dehradun on Thursday. Tribune photo: Vinod Pundir

Rang Mahotsav opens today
Dehradun, December 25
To boost up the rich culture of dancing and singing in our country, the universal Sanskriti Sodh Natya Academy will organise a Rang Mahotsav from December 26 to 31.
Legislator submits list of demands
Dehradun, December 25
Om Gopal Rawat, Legislator from Narender Nagar, Tehri Garhwal has given a list of development work to the Mela in charge, Haridwar. The list submitted mentions the development work done in areas falling under the Kumbh mela area of Tapovan, Dhaluwala, Brahampuri, Ghugtani, Neergoon,Brahampuri, Shishamjhari, Muni Ki Reti.