Maruti, govt sign MoU for driving institute
Dehradun, December 20
Not many states seem to be enthusiastic about the move of Maruti Suzuki India Limited (MSIL), the largest car maker in the country, to set up facility to train drivers and research on improving road safety as part of its Corporate Social Responsibility (CSR).
Teachers' protest enters day 11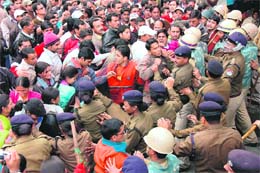 Dehradun, December 20
Shisksha Mitra continued their protest to get regular scales on 11th day at Vidhan Sabha here today. The teachers of government schools and 'shiksha mitras' also offered to court arrest. Condemning the government, shiksha mitras said that if in case, the government doesn't listen to their demands, they will be forced to take an extreme stand.
Schoolteachers court arrest in Dehradun on Saturday. Tribune photo: Vinod Pundir
Govt revives ANM training centres
Dehradun, December 20
In order to meet the shortage of Auxiliary Nurses/Midwives, the state Health department has revived training centers, expecting to churn out 150 ANMS every six months by July 2009.
Implement drinking water projects: Kandari
Dehradun, December 20
Uttarakhand Drinking Water minister, Matbar Singh Kandari, has appealed the MLAs for their active assistance in implementing drinking water project Sector Wide Approach programme (SWAP).
Suicide bid by family, one dead
Dehradun, December 20
Three members of a family today consumed celphos tablets following which, Shivam (17) died, while his mother, Vidya (45) and sister, Ratna (21) are battling for life. According to the police officials, Vidya's husband Vijya died a month ago. "The family resides near Railway Line Harrawala, Doiwala. It seems that after the death of her husband, Vidya went into depression. Out of her three children, daughter Ratna and son Shivam were mentally retarded", disclosed Doiwala Police Station incharge, Mahesh Joshi.
Now, Vikrams to operate from Parade ground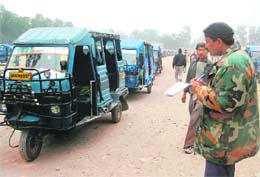 Dehradun, December 20
To facilitate a hassle-free traffic movement in Dehradun, the administration today made Parade ground a central terminus for all the Vikrams operating on Rajpur, Dharampur, Majara and Kanwali routes in Dehradun city.The new arrangements will facilitate smooth movement of traffic as Vikrams will no more be allowed to pick up the commuters from Ashley Hall and Survey Chowk areas. They would now be operating through Parade Ground. The earlier arrangements were causing unnecessary traffic jams.
There's something for everyone this Christmas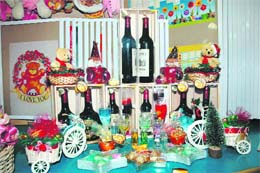 Dehradun, December 20
People in Dehradun are thronging gift shops to buy something special for their loved ones. This Christmas season, lot interesting options are available in the market to choose from. The city gift shops are full of beautiful gifts that are attracting customers. From beautiful decorative items like the Christmas tree, clothes for Santa Clause, candles and chocolates, there is something for everyone.

Candles, chocolates and soft toys displayed at a gift shop in Dehradun. Tribune photo: Vinod Pundir
Centre approves Yuva Khel Project
Roorkee, December 20
To promote sports at the level of Gram Panchayats, the Central government has started Panchayat Yuva Khel Project. Under this project every village will have a play ground and will be provided with basic sports infrastructure. In Uttarakhand, this project will be undertaken by the Rajya Yuva Kalyan Parishad.
ICFAI emerge victorious
Dehradun, December 20
Parinay's innings of 90 runs helped ICFAI National College register a thumping victory over NIIT at the 57th District Cricket League underway at Survey Stadium here today.