Indian Army most dependable: IMA Commandant
Dehradun, December 10
Amid a jam-packed Khetrapal auditorium, Indian Military Academy (IMA) Commandant Lt. Gen. Rajinder Singh Sujlana, AVSM, VSM, gave awards to outstanding Gentlemen Cadets (GCs) of the passing out course for Autumn term 2008, here today.
Employees seek 6th pay panel benefits
Dehradun, December 10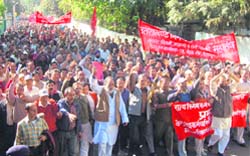 Seeking Sixth Pay Commission benefits, employees of the various state corporations of the state today staged a protest rally in Dehradun. The rallyists under the aegis of Rajya Nigam Karmachari Mahasangh gathered at the Gandhi Park and marched to the secretariat after criss-crossing prominent roads of the city.

State employees stage a protest in Dehradun on Wednesday. Tribune photo: Anil P. Rawat
Fake identity: Father of accused also held
Dehradun, December 10
Sanjeev Yadav, alias Deepak Yadav, who was arrested on charges of undergoing training at the Indian Military Academy (IMA) on a fake identity, has been remanded to police custody for five days.Meanwhile, the Meerut police has reportedly arrested Sanjeev's father S.R. Yadav.
Koshiyari takes oath as RS member
Dehradun, December 10
Former Chief Minister of the state Bhagat Singh Koshiyari today took oath as member of the Rajya Sabha in New Delhi, turning a new chapter in the politics of ruling Bharatiya Janata Party (BJP) in Uttarakhand.
Association dharna enters third day
Dehradun, December 10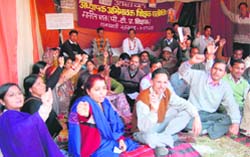 Parent Teachers Association continued with their dharna outside the Vidhan Sabha for the third day today. Led by Ashwani Chauhan, the people on dharna pledged to continue with their stir till their concerns were redressed by State Education Department. The protesters alleged that despite their repeated appeal to the education department, relief is still to come their way.
Parent-Teacher Assocation members stage a dharna at the Vidhan Sabha in Dehradun on Wednesday. Tribune photo: Anil P. Rawat
All-India Forest Games and Sports Meet
Uttarakhand foresters win 11 medals
Dehradun, December 10
Uttarakhand foresters have proved their mettle in the recently concluded 17 All India Forest Games and Sports Meet. In one of the best ever performances, Uttarakhand bagged as many as 3 Golds, 3 Silvers and 5 Bronze medals, getting 11th position in the overall medals tally.
Hockey Shimla thrash Meerut
Haridwar, December 10
The North Zone Inter University Hockey Tournament got to a flying start today with teams netting goals in huge numbers.
Efforts on to revive tournament
Dehradun, December 10
The Shahid Kharag Bahadur Football Tournament was the most popular tournament in the 80's. It had attracted many big names like Shyam Thapa, C.B.Thapa, Ratan Thapa, Amar Bahadur Thapa and others. But it lost it popularity in the late 90's and came to an abrupt end in the year 1999.
Little Master defeat Little World
Dehradun, December 10
Little Master Cricket Club Uttarakhand outclassed Little World of Uttarakhand at the 23rd Late Banke Lal Memorial Cricket Tournament match here today.
Royal Academy win by 2 wickets
Dehradun, December 10
Royal Cricket Academy won by two wickets against Young Boy's Club at the 57th District Cricket League underway at Survey Ground here today.
Leopard kills yet another villager
Dehradun, December 10
In the second incident within a fortnight, a leopard killed a twelve-year-girl, Shanti, on the outskirts of Dehradun, yet again exposing the vulnerability of the village children to the prowling leopards even in the areas in close proximity to the capital region.