Bailout policy wrong, says economist Ghosh
Dehradun, December 14
The ongoing global economic crisis should be seen as an opportunity especially by the leftists to project their socialistic economic agenda as a means to help the country wriggle out of the crisis.
Pollution effecting breeding pattern in elephants: Study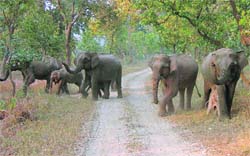 Haridwar, December 14
The recent incidents of elephants venturing to the edge of Rajaji National Park and some running amok in the fields and residential areas in the vicinity of Haridwar and Rishikesh are a result of their breeding season and the seasonal migration which happens during February.
Cleanliness drive in Haridwar from today
Haridwar, December 14
After facing much flak, the municipal committee of Haridwar has finally decided to launch a cleanliness drive in the city from December 15. Under the drive, the general public will be made aware of the ill-effects of pollution and accumulation of garbage in the city.
Promote mother tongue, says Pbi varsity VC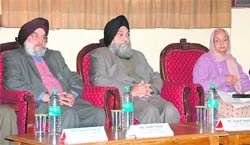 Dehradun, December 14
The Vice Chancellor of Punjabi University, Patiala, Dr Jaspal Singh, who was in Dehradun today, has called upon the Punjabi diaspora, settled in India and abroad, to promote Punjabi language and culture in a big way.
Punjabi University VC Dr Jaspal Singh at the Dr Balbir Singh memorial lecture in Dehradun on Sunday. Tribune photo: Vinod Pundir

For The First Time
Armymen sensitised on wildlife
Dehradun, December 14
In an effort that could have far-reaching consequences for wildlife conservation, the Dehradun based Wildlife Institute has successfully conducted the first-ever wildlife sensitisation programme for army personnel.
Judo academy stuck in red tape
Dehradun, December 14
The Uttarakhand government has yet not responded to an ambitious proposal of setting up a world class Judo Academy in the state by a Japanese company. Worse, the Judo Federation of India has also threatened to set up the academy in some other state.
Dehradun dominate judo championship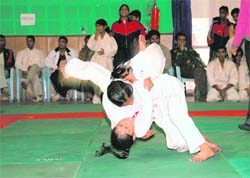 Dehradun, December 14
Dehradun dominated the Uttarakhand State Sub-Junior Judo Championship at the multi-purpose auditorium at Parade Ground. Dehradun won 15 gold medals in various categories among boys and girls.


Judokas in action at the State Judo Competition at Indoor Stadium in Dehradun. Tribune Photo: Vinod Pundir

Hockey
GND varsity allege bias, stage walkout
Haridwar, December 14
The match between host Gurukul University and Guru Nanak Dev University, Amritsar, today at the North Zone University Hockey Championship was marred with allegations of favouritism towards the host team.
Young Star thump Valley Boys
Dehradun, December 14
Little Young Star registered a thumping victory against Valley Boys at the 57th District Cricket League that was played at Suvery Stadium here today. Former defeated the latter by 127 runs.
Amritsar, Little Master in semis
Dehradun, December 14
Amritsar will take on Little Master in the finals of the 23rd Banke Lal Shah Cricket Tournament here tomorrow.