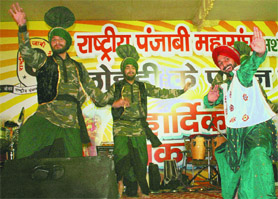 Punjabi Panache: Folk dancers perform bhangra on the eve of Lohri, organised by the Rashtriya Punjabi Mahasangh in New Delhi on Monday. Tribune photo

Noida Gang Rape
Chowkhandi elders keen to save their youth
Noida, January 12
The alleged gang rape of an MBA student on Monday last by 11 youths of the Garhi Chowkhandi has brought together the entire village as never before to save its cricket team which had allegedly kidnapped the MBA student and her companion.
3 thieves nabbed; 19 vehicles seized
New Delhi, January 12
The South East district police arrested three members of the Kishan Gang yesterday and seized 19 vehicles from them. The gang has been involved in vehicle thefts in Delhi and NCR. The police had been on the lookout of this gang since the past three months.
Gurgaon water table shows improvement
Gurgaon, January 12
The water table in the city has shown an improvement of 1.08 meters due to good rains last year, which may bring some relief to the residents here.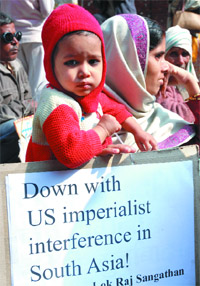 A child at a demonstration by the Communists Ghadar Party against threat to peace in South Asia, in New Delhi on Monday. Tribune photo: Manas Ranjan Bhui

NGO protests against police raids
Writes to President, Prime Minister, Haryana Governor
Gurgaon, January 12
Adhikaar, a city-based NGO working for the cause of civil, consumer and human rights, today wrote to the President of India, the Prime Minister, Haryana Governor, UPA chairperson, National Commission for Minorities and National Human Rights Organization, requesting them to intervene and provide justice to innocent and poor labourers, rickshaw pullers, villagers and workers who became victims of alleged police atrocities at the Jama Masjid and Alawalpur village.
Bollywood classics enter class XII syllabus
New Delhi, January 12
In a development that is bound to go down well with students, the National Council of Education Research and Training (NCERT) is introducing Bollywood reference material for class XII curriculum.
Tarot card with victim's photo recovered from accused
Noida, January 12
With all the 11 accused in the gang rape of the MBA student in the police net, the police has recovered from the 11th accused a tarot card with victim's photograph, a cricket bat, two wickets and a helmet. All the 11 accused arrested are members of the cricket team of village Garhi Chowkhandi.
Corporate training at IGNOU
New Delhi, January 12
Indira Gandhi National Open University (IGNOU) has announced the Centre for Corporate Training and Consultancy (CCETC).
Blueline driver fires at another for overtaking
Noida, January 12
A Blueline bus driver opened fire at another Blueline driver who overtook him and then fired at policemen on Delhi-Noida border today, but no one was injured in the bizarre case of road rage.
Congress protest against property tax in villages
New Delhi, January 12
The Congress municipal councillors today staged protest demanding exemption from property tax in respect of residential properties occupied by their legal heirs in villages.
Balliraman, home for power thieves
New Delhi, January 12
Balliraman that was once used to be the adobe of Urdu poet Mirza Ghalib has now become a home for power thieves. Forty per cent of the total power theft of the Capital is reported from this area, said a BSES official.
Dip in temp likely
New Delhi, January 12
Delhiites continued to enjoy the warm winter sun today, but the Met department has forecast that days will not remain warmer for the rest of the season. According to weathermen, the city might record a dip in the minimum temperature and might have to bear foggy mornings ahead.
Revolver of 1st CBI director at museum
New Delhi, January 12
The revolver of the first director of Central Bureau of Investigation, D P Kohli, was gifted to the CBI for exhibiting in the National Police Museum.