Indo-Pak art community pays tributes to Sandhus
Amritsar, January 16
Eminent and renowned personalities from theatre, art and culture across the two sides of Indo-Pak border paid tributes to the cultural ambassador couple Dr Shivinder Singh Sandhu and his wife Manveen who died in an accident near Bikaner in Rajasthan last Sunday.
Sardar Panchhi - a poet against narrow ideologies
Amritsar, January 16
As a 13-year-old, Karnail Singh, known as Sardar Panchhi, saw horrors of Partition, which stirred his heart.
Sukhbir's elevation shows SAD's fear of losing poll: Dal Khalsa
Amritsar, January 16
The Dal Khalsa, a radical Sikh organisation, here today termed the hurried move of the Shiromani Akali Dal (SAD) to propose appointment of its president Sukhbir Singh Badal as deputy Chief Minister before the Lok Sabha elections as an outcome of "an assessment that after elections his popularity is going to hit the low."
PPCC secretary lashes out at Sidhu
Amritsar, January 16
Harpal Singh Bhatia, secretary of the Punjab Pradesh Congress Committee, has threatened to take an agitation path if foundation stones and plaques, which have been laid in the areas of the Congress councillors, were not removed.
Reform police force, says ex-ADGP of MP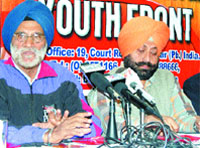 Amritsar, January 16
It is like homecoming for Dhanwant Singh Gill, former additional director general of police, Madhya Pradesh, who has now decided to settle in Amritsar after 12 years of his retirement.




Former ADGP of MP Dhanwant Singh Gill addresses mediapersons in Amritsar. Photo: Vishal Kumar

Chessboard in bottle
Amritsar, January 16
A 60 mm x 60 mm chessboard inside a glass bottle with 15 mm diameter. It sounds amazing. But it has been made possible by Amrit Pal Singh (23). A 15-mm diameter bottle has a 60 mm x 60 mm chessboard in it. A cursory glance of the bottle was enough to draw the attention of onlookers. It also forces one to ask how a chessboard could be planted inside a bottle.
Amrit Pal Singh
Doctors plug hole in baby's heart
Amritsar, January 16
A team of doctors of Fortis-Escorts Hospital here performed a surgery to cure a hole in the heart of a baby, Simarjit Kaur, yesterday.
28 students make it to IBM Daksh
Amritsar, January 16
About 200 students from different colleges participated in joint campus placement programme held at Khalsa College for Women here out of which IBM Daksh a multination company has selected 28 students. Among the selected students eight students are from Khalsa College for Women, Amritsar. EOI (Expression of Interest) letters were given to the students by the company officials at the end of the programme. College principal Sukhbir Kaur Mahal congratulates the students and the placement cell of the college. — TNS
111 couples tie nuptial knot
Tarn Taran, January 16
As many as 111 couples tied the nuptial knot at a mass marriage organised by the Citizen Council at the local Sewa Devi S.D. College. An NRI, Harbans Lal Gerra, and his other associates financed the function.