Anyone trimming beard cannot be Sehajdhari
Chandigarh, January 16
Just over a month after the affidavit on to the definition of "Sehajdhari Sikh" raised controversy, the Shiromani Gurdwara Prabandhak Committee (SGPC) today submitted an additional affidavit to say anyone cutting or trimming his beard was not a Sehajdhari.



Stop Sukhbir march, BJP men tell Rajnath
Chandigarh, January 16
The Punjab BJP today impressed upon its central leadership to prevent Shiromani Akali Dal (SAD) president Sukhbir Singh Badal from becoming Deputy Chief Minister of the state, saying that such an elevation would not send the right message on the eve of parliamentary elections.
Majithia offers to quit in favour of Sukhbir
Amritsar, January 16
Minister of Information and Public Relations Bikram Singh Majithia today offered to resign from the cabinet and vacate his Majitha assembly seat for the sake of SAD supremo and his brother-in-law Sukhbir Singh Badal to clear way for his appointed as Deputy Chief Minister.
Malwa upbeat
Bathinda, January 16
The move to induct Sukhbir Singh Badal as Deputy Chief Minister in the SAD-BJP coalition government has generated enthusiasm not only among SAD activists, but also the general masses, particularly in the Malwa belt.
Chandumajra endorses SAD chief's elevation
Amritsar, January 16
Senior Akali leader Prem Singh Chandumajra has ruled out any bickering in the party following the elevation of Sukhbir Singh Badal Deputy Chief Minister. The move will boost morale of the party workers in the coming Lok Sabha elections, he added.
State politics: It's all in the family
Chandigarh, January 16
Father and son holding number one and two positions in the government, looks odd and unprecedented. The elected leader of a party working under the leader of the legislature party, which is a part of the main party, also looks odd. But, not to the Badals.


Inside Babudom
Punjab has little say in central postings
Chandigarh, January 16
If recent appointments made in the union government from among officers of different states are any indication, Haryana is doing better than Punjab in meeting its central deputation quota demands.
Faridkot to have Microsoft academy
Faridkot, January 16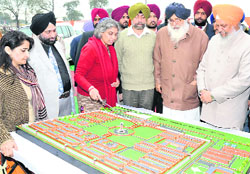 Chief Minister Prakash Singh Badal has announced a Microsoft academy for Faridkot to impart computer software education to students. The state government has signed an agreement with the Microsoft Corporation in this regard.




Chief Minister Parkash Singh Badal on Friday inspects the model of a modern jail to be constructed at Faridkot. Photo by writer
SSP told to investigate 'kidnapping'
Chandigarh, January 16
The Punjab and Haryana High Court wants Amritsar SSP Kunwar Vijay Partap Singh to look into the murky side of the municipal polls.
Border women take to police
Fatehgarh Sahib, January 16
Recruitment of women constables in Punjab has found maximum takers from border districts of Ferozepur and Gurdaspur.
3,000 villages to get water in Punjab
Chandigarh, January 16
The Punjab government will provide water supply in 3,000 villages which were either not covered by this facility or only partially covered, PS Aujla, secretary, Punjab Rural Water Supply and Sanitation disclosed here.
'No power cuts in Punjab from March'
Patiala, January 16
Giving a new ray of hope to the people suffering from power shortage in Punjab, the newly appointed chairman of the Punjab State Electricity Board (PSEB), Harinder Singh Brar, has extended an assurance that there will be no power cuts in Punjab from March onwards.


Tainted Police Officers
Punjab told to file fresh affidavit
Chandigarh, January 16
The Punjab and Haryana High Court wants Punjab to file a better affidavit on its stand regarding the mandate of the Punjab Police Act against the continuation of tainted police officers on plum postings.


Coach Factory Death
FIR filed against officer
Kapurthala, January 16
The district police registered a case against a Railway Coach Factory class I officer for the accidental death of senior technician Pramod Kumar (43) at its shell shop.