MC goes about quietly killing stray dogs
Srinagar, January 16
Deterred by the howls of animal rights activists, mostly from outside the state, over its plans to poison ever-swelling number of stray dogs, the municipal corporation authorities in Srinagar have hit upon an ingenious method to deal with the nuisance without raising eyebrows of the activists.
Udhampur residents feel insecure as crime rate soars
Udhampur, January 16
As mysterious killings have become a routine affair in Udhampur and adjoining localities, the police is finding it difficult to solve these sensational deaths which have created insecurity among residents of this town.
Jammu, January 16
Come the marriage season and city residents are reduced to a harried lot, as people in the residential areas occupy main roads for erecting tents to hold wedding parties and other private functions.

The main road in Jammu's Shastri Nagar blocked for a private function. Tribune photo: Anand Sharma
Bat industry on verge of closure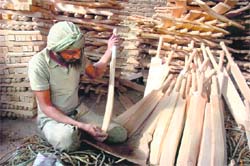 Jammu, January 16
Cricket bat industry is battling for survival in the state. Jammu region, which boasted of 77 cricket bat manufacturing units a few years ago, now has mere 10 units, while the scenario in the Kashmir valley is no different.


A worker makes a cricket bat in the Gangyal industrial area in Jammu. A Tribune photograph
Karachi book fair
Kashmir varsity publications win accolades
Srinagar, January 16
Much to the expectations of vice-chancellor of the University of Kashmir Riyaz Punjabi, the university publications and works over the past six decades have been appreciated not only at the national level but also at the international level.
Shiv Khori shrine attracts lakhs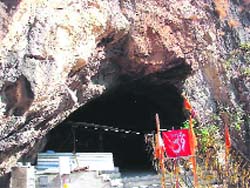 Pouni (Reasi), January 16
As the Shiv Khori cave shrine attracted a record 5.21 lakh pilgrims this year, the authorities are geared up to provide every possible facility to devotees to divert as many as pilgrims of Vaishno Devi towards other places of pilgrimages in the newly carved Reasi district.


The Shiv Khori cave shrine in Reasi. A Tribune photograph
Letter
Poor traffic management
Every year with the Durbar Move come added traffic woes for city residents. Already, the city has a huge number of vehicles apart from thousands of trucks that cross the city either for the Kashmir valley or neighbouring states.