Delay in convening House flayed
Jammu, January 21
Even as the NC-Cong government has completed a fortnight in the office, the opposition parties like the BJP and the Panthers Party have flayed it for "dilly-dallying the Assembly session as well as the measures to redress the common man's woes."
PSA case against Dinesh Bharti
BJP activists burn govt effigy
Jammu, January 21
BJP activists today staged a demonstration and burnt an effigy of the NC-led coalition government here, demanding immediate revocation of the case slapped on religious leader Dinesh Bharti under the Public Security Act during the Amarnath land agitation last year.
Misappropriation of Ration
Three officials in Vigilance net
Jammu, January 21
The State Vigilance Organisation (SVO) has registered a case against three CAPD officials, including Assistant Director, CAPD, Jammu, for alleged misappropriation of ration meant for the weaker sections of society thereby causing a loss of over Rs 12 lakh to the state exchequer.
Land scam unearthed
Srinagar, January 21
The State Vigilance Organisation (SVO) today registered a case against revenue officials of Anantnag district for large-scale bungling in the disbursement of compensation for acquisition of land for a golf ground in Pahalgam.
Track fracture disrupts train service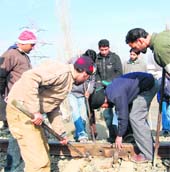 Srinagar, January 21
Train service was disrupted this morning when a train was stopped following reports of a fracture on the railway line between the Srinagar station and Budgam near Rawalpora. The train was stopped for about one hour and after the fault was repaired the train service was resumed, railway officials concerned said.


Railway staff busy mending the track at Rawalpora (Budgam) on Wednesday. Tribune photo: Amin War
4 injured in Budgam lathicharge
Srinagar, January 21
At least four persons were injured when the police used force to disperse a crowd of people protesting against erratic power supply in Budgam today.
ANC releases Shah's report on autonomy
Srinagar, January 21
At a time when different formulae are being proposed to find a solution to the Kashmir issue, the Awami National Conference (ANC) has made public an "autonomy report" compiled in 1981, which has not been released so far.
Postings, transfers
Jammu, January 21
The government has ordered the following transfers and postings. Khurshid Ahmad Shah, director, Social Welfare Department, Kashmir, has been transferred as director, Estates, vice AR Kuchai.
Age-determination test conducted on maid
Jammu, January 21
Following protests by hostellers and Meera Bai's first appearance before the media, the police today took Meera to Government Medical College, Jammu, for an age detection test.
SRTC staff hold demonstration
Jammu, January 21
Peeved at the "rigid attitude" of the authorities, SRTC employees today staged a demonstration at the corporation office, seeking immediate release of their pending salaries.
City residents rue long power cuts
Jammu, January 21
A delegation led by state BJP president and MLA, Jammu East, Ashok Khajuria today called on divisional commissioner Sudhanshu Pandey and apprised him of problems being faced by traders and residents of the city due to rampant power cuts.
Veterinary, medical camps organised
Udhampur, January 21
In a goodwill gesture, the Army organised a veterinary camp under Operation Sadbhavana at Talwara village in Reasi district yesterday.