President asked to rein in Iran's nuclear plans
Washington, January 21
Amidst all the jubilation surrounding Barack Obama's inauguration, there were some protesters too, with one group asking the new President to stop Iran from acquiring nuclear weapons and Pakistan's threat against India.
'Don't undo Bush's work'
Beijing, January 21
Chinese state media urged new US President Barack Obama not to ignore the "hard-earned progress" in ties made by George W Bush, even as websites censored inauguration speech references to communism and dissent.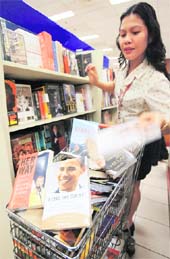 A book on Barack Obama being displayed inside a store in Manila on Wednesday. — Reuters
US to chalk out new war strategy
Washington, January 21
On his first full day in office, President Barack Hussein Obama is set to roll out his new war strategy as he chairs a crucial meeting of top military and national security advisers today at the White House.
Is Michelle the new style icon?
Washington, January 21 Could Michelle Obama be the next Jacqueline Kennedy for stylephiles? The new first lady could, going by the initial reaction on her attires from the world of fashion and media. Michelle dazzled on the dance floor last night at the Neighbourhood Inaugural Ball here, wearing an elegant, one-shouldered ivory gown.
New immigration policy may help Indians
Washington, January 21
In what could be seen as a boon to Indians wishing to come to the US, the new Obama administration's proposed immigration policy favours increase in the number of the legal immigrants in the country.
Moscow puts off delivery of N-subs to India
Moscow, January 21
In what could be a major set back for India's defence preparedness, Russia has 'indefinitely' postponed the delivery of "Akula-II" class Nerpa nuclear submarine, citing that sea trials were still incomplete. "The pre-delivery trials have been postponed by the Amur shipyard as it has no trial crew and is running short of cash," Far Eastern edition of Kommersant daily reported today.
Fierce fighting near last LTTE bastion
Colombo, January 21
At least 14 LTTE cadres were killed as advancing Sri Lankan troops clashed with rebels near the last Tiger bastion of Mullaittivu in the embattled north, the military said today.
Karzai, US Gen discuss terror
Kabul, January 21
US General David Petraeus met Afghan President Hamid Karzai overnight, US officials said today after the regional military chief said deals had been made on new transport routes into Afghanistan from Central Asia.
Tackling Destruction of Schools
Pak govt assures help to Swat region
The Federal Cabinet on Wednesday assured full backing to the NWFP provincial government in stopping destruction of schools in the troubled Swat region by religious extremists.