Young World
City lads top national science talent exam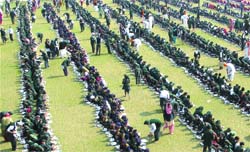 Jalandhar, January 29
Three students of St. Soldier Divine Public School, Kapurthala Road, grabbed top positions in the 10th national-level science talent examination conducted by the Putani Vignana Children's Science Group, Chitradurga of Karnataka, in September, 2008. Approximately 1,000 students from all over the country participated in the contest.
Students of MNS Public School have langar during 'Sthapna Divas' at their school in Jalandhar. A Tribune photograph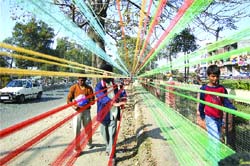 Sellers apply a colourful mixture on kite strings in Jalandhar. Photo: Suryakant
It's raining medals for this judoka
Jalandhar, January 29
It has been raining medals for this judo player from HMV College. Sangeeta won a gold medal in an inter-college championship organised by Guru Nanak Dev University in Amritsar in the first week of December.
Sports manufacturers demand VAT-free state
Jalandhar, January 29
The city-based sports goods manufacturers will conduct a protest rally on February 21 against the failure of the government to make Punjab a VAT-free state on the lines of Uttar Pradesh.
Donning khaki is their ultimate dream
Girls attend coaching classes to get entry into police as constables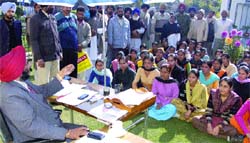 Jalandhar, January 29
They may have missed a chance to pursue higher studies further but luck knocked their life once again. Away from the rustic lanes of villages with a decision to lead a disciplined life in the forces, these girls have indeed come a long way.
A coaching class in progress at the District Sainik Welfare Office. Photo: Suryakant
Two held with 6 kg charas
Jalandhar, January 29
The police arrested two persons and seized six kg charas from their possession. The police also impounded a car in which the suspects, identified as Manoj Kumar, a resident of Gajjagulla locality and Pawan Kumar of New Shashtri Nagar, were transporting the contraband.
Patwari held taking bribe
Kapurthala, January 29
The vigilance bureau (VB) arrested patwari Balkar Singh posted at Mander village in Dhilwan block for allegedly accepting a bribe of Rs 1,500 from Nirbhay Singh of Fattuchack village for issuance of a "fard" of his property.