33 CRPF cos pull out of valley
Srinagar, February 5
A number of CRPF companies have started pulling out of the valley, meeting the demands of the CRPF top brass, which wanted these companies deployed in the wake of the Amarnath agitation, and the local population, which wanted the police to be at the forefront of law and order duties.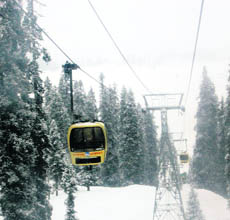 Snow hits life in valley
Srinagar, February 5
Normal life was affected across the Kashmir valley due to moderate-to-heavy snowfall in hilly areas and rain in plains. Reports reaching here said one-and-a-half feet snow was recorded at Baba Reshi near the world famous health resort of Gulmarg. "Fresh snow up to one feet has been recorded at Gulmarg, while it was 16 inches at Hirpora in Shopian district.



Cable cars in operation at snow-clad Gulmarg on Thursday. Tribune photo: Amin War

HC orders release of 10 PSA detainees
Srinagar, February 5
The Jammu and Kashmir High Court has quashed the detention of 10 persons, including some who were arrested during the Amarnath land transfer agitation, under the Public Safety Act (PSA).
Bal Ashram inmates happy over hike in diet charges
Jammu, February 5
Inmates of Bal Ashrams, Nari Niketans, and Blind Homes are happy over the increase in sanction of diet charges from Rs 25 to Rs 50 per day per inmate. The inmates are also happy that they will get better food now.
Govt apathy forces students to study in the open
Gundla (Jammu), February 5
Even as successive state governments made tall claims of providing adequate infrastructure to facilitate quality education in government schools, students of Government High School here continue to pursue 'studies' in the open.
Implement schemes on time, says minister
Jammu, February 5
Minister for Rural Development and Panchayats Ali Mohammad Sagar, while addressing a review meeting of the Rural Development Department, here today asked officers to ensure proper implementation of various schemes and completion of the projects on time for uplift of people living in far-flung and remote areas of the state.
Muzaffarabad bus service suspended
Srinagar, February 5
The weekly bus service between Srinagar and Muzaffarabad was temporarily suspended today following landslide on the other side of the Line of Control (LoC), official sources said.
Problems of weaker sections discussed
Jammu, February 5
The Centre for Ambedkar Studies at the Department of Sociology at Jammu University today organised a panel discussion on "Weaker Sections in J&K state: Problems and Prospects".
People protest against police laxity
Udhampur, February 5
Residents of Udhampur today taken to streets to lodge protest against failure of the police to maintain law and order in the town and adjoining localities.
Morcha demands central varsity in Jammu
Jammu, February 5
The Jammu State Morcha (Progressive) has opposed the idea for upgradation of Jammu University as a central varsity, demanding instead the establishment of a separate central university in Jammu province as being proposed by the Union Government.
BJP supports Home Guards
Jammu, February 5
The BJP today expressed its solidarity with the protest of Home Guards who are demanding regularisation and absorption in government service on permanent basis. Senior BJP leaders visited Home Guards at the dharna site, where the protesters submitted a memorandum to them.
Red Cross Mela from Feb 7
Jammu, February 5
To reach out to masses and create awareness about its activities, the Red Cross, Jammu, is organising a Red Cross Mela-cum-Raffle Draw on February 7-8.
Society demands Urdu academy in Jammu
Jammu, February 5
The Rasa Javedani Memorial Literary Society (RJMLS) has reiterated its demand for setting up an Urdu Academy in Jammu. The members of the society said if government would not consider this demand, the RJMLS along with other sister organisations would launch an agitation for the cause.
Sanitary inspector suspended
Jammu, February 5
Deputy Chief Minister Tara Chand, during a surprise visit to the emergency wing and wards of the Government Medical College Hospital and the Dental College, has suspended a government official for dereliction of duty.