Legislative Council Elections
Ruling coalition set to bag majority of seats
Will BJP, Panthers join hands?
Jammu, February 20
After sweeping the Rajya Sabha polls, even as the ruling NC-Congress combine appears all set to repeat its performance in the forthcoming Legislative Council elections to 11 seats on March 7, the Jammu-based parties like the BJP and the Panthers Party are holding a meeting tomorrow to discuss their poll strategy.
RBI staff go on mass leave
Jammu, February 20
The work at the Reserve Bank of India, Jammu, came to a standstill here today with all staff members from Class IV to the senior most officers, under the banner of the United Forum of RBI Officers and Employees, took mass casual leave to press for their demand of restoration of the Pension Updation Scheme.
RTI Act
Draft Bill put on official website
Jammu, February 20
Taking cognisance of a news in the columns of The Tribune on February 2, the state government has put the draft amendment Bill of the Jammu and Kashmir Right to Information Act, 2004 on the official website of the General Administration Department, inviting suggestions from people.
Here they get ration as per 1991 Census
Buddhal (Rajouri), February 20
With the Centre likely to hold population census across the country within next two years, the state government here is yet to implement the findings of census of 2001.
PoK man buried in ancestral graveyard
Jammu, February 20 The last wish of a man from the Pakistan occupied Kashmir (PoK) was fulfilled today when his body was buried in his ancestral graveyard with the authorities granting permission for his burial in Poonch district.
Plan to develop Gharana wetland
Jammu, February 20The Union government has approved a proposal for the development of the Gharana wetland in RS Pura, home to thousands of migratory birds during winter season.
Panchayat poll after LS elections: CM
Rajouri, February 20
Chief Minister Omar Abdullah said today that the panchayat elections would be held after the general election.
BJP hails release of Dinesh Bharti
Jammu, February 20
BJP state spokesperson Ramesh Arora has welcomed the decision of the revocation of the Public Safety Act (PSA) against Swami Dinesh Bharti.
Mayor's election on March 5
Jammu, February 20
The Jammu Municipal Corporation (JMC) is all set to elect its new Mayor and Deputy Mayor on March 5 for a tenure of one year.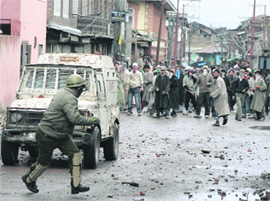 9 hurt in Srinagar clashes
Srinagar, February 20
At least nine persons, including four cops, were injured in clashes between protesters and security personnel as a procession demanding, among other things, the release of separatist prisoners turned violent in the old town.
A cop takes cover behind a vehicle as protesters throw stones during a demonstration in Srinagar on Friday. Tribune photo: Amin War

Quake jolts Kashmir
Srinagar, February 20
An earthquake of 5.5 magnitude on the Richter scale jolted the valley at 9.18 am today.
RS Elections
Bhim Singh to move HC
Jammu, February 20
Panthers Party chairman Bhim Singh today claimed that the February 13 Rajya Sabha elections were prima-facie illegal, unconstitutional and mala fide.
Hideout unearthed, arms seized
Jammu, February 20
Security forces have busted a militant hideout and seized arms and ammunition in Udhampur district, police sources said here today.
Mercury much above normal
Srinagar, February 20
Amidst rain in the entire valley and snow in parts of it, the temperature hovered between a maximum of 15.3°C and 3.6 degree C in the past 24 hours, which is much above normal in this part of the year.
Tribune Impact
Assures action on BPL list
Admitting that there were cases wherein genuine beneficiaries were left out of the BPL scheme, Omar Abdullah said addressing a public meeting at Kalakote that he would see that genuine beneficiaries were not left out of its ambit.