Success to women comes the milky way
SMA Kazmi
Tribune News Service
Dehradun, February 25
In the absence of men who go out to earn their livelihood in the plains, women of Uttarakhand hills remain the backbone of the state's agrarian economy. Small stepped land-holdings, migration of menfolk, pressure to raise children as well as look after cattle has been the burden of the women.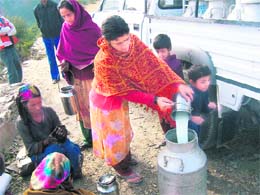 Small agricultural fields in the hills have been totally dependent on rains and of late the change in weather has added to the woes of the women in this hill state. The farms do not produce much and women, particularly of the poorer sections, are getting even poorer.
But a single move has not only provided them with a livlihood but also made them self-sufficient, bringing in a mini white revolution in the Himalayas. It was on the initiative of the Himalayan Institute of Environment, Ecology and Development, Rani Chouri, Tehri Garhwal district, and the Union Ministry of Women and Child Development that dairy development was identified as a vocation to help the hill women.
Almost every household in the hills has its own cattle but so far there was no commercial angle to milk production. The milk yield was low and there were no scientific method for dairy development. With assistance from the Central Government, a total of 20 villages in Chamba block of Tehri Garhwal were identified for the project.
After a survey, women were selected for the project and given intense training on the latest scientific techniques involved in dairy development. An all-women Milk Cooperative Society was formed where women did everything, from fetching and testing the purity of milk to bringing it to collection points for further sending the milk to chilling plants run by the Tehri Garhwal Milk Cooperative Plant.
"The entire work -- bringing milk, testing and maintaining records of the entire transactions -- is being done by women members of the society. The members have their bank accounts and get monthly payments for the milk supplied," said Kamal Bahuguna, director of the Himalayan Institute of Environment, Ecology and Development (HIFEED).
It was in 2007 that Jagdhar villagers in Chamba were persuaded to start the HIFEED Coop Milk Society. "We were a band of 15 women who started it but now we have 50 women in our group," said Rekha Devi, secretary of the village society.
Buoyed by the success, 50 women in each village were selected as members of the cooperative society. "After initial training, we provided them with a milk-testing kit, four milk cans of 40 litres each, stationery, an almirah and furniture to start their office. We provide for the office and make arrangements for transportation of the milk from the collection centres," said Bahuguna.
The response has been tremendous with more than 600 women in 12 villages forming cooperatives. These women cooperatives started sending 500 litres of milk everyday to the milk plant at New Tehri. Encouraged by the response, the Dairy Development Department of the Uttarakhand government sanctioned a revolving fund of Rs 10,000 for each cooperative society.
"We have been giving Rs 1 lakh to each cooperative society for running its operations successfully for a year. We have started giving paying to the women bringing milk to road heads covering long distances," said Bahuguna.
The experiment has brought about a change in the lives of the 600 women members. "We are now earning between Rs 1,500 - Rs 2,000 per month depending on the quantity of milk procured by each member," said Sangeeta Devi, secretary of the Dargi village cooperative society.
HIFEED has tried to romp in all associated government departments, like Women and Child Development, Animal Husbandry, Dairy Development, Uttarakhand Livestock Board and banks so that women get to know about scientific techniques, equipment, animal feed, medicines and loans for purchasing cows and buffaloes of better breed.
"For more than 150 of the 600 women, we have arranged bank loans and provided them with margin money for purchasing better breed of buffaloes for better yield per animal," said Bahuguna.
"Starting with nothing, we have started selling milk worth Rs 62,000 per month," said Devki Devi, President of the Manda village cooperative society, one of the main contributors in milk production. "There are several requests from women of other villages who also want to be involved in this milk revolution," said Bahuguna.
HIFEED plans to set up eight more cooperatives by the year-end involving a total of 1,000 hill women in the project.
"We are in touch with the Union Ministry of Women and Child Development and the Department of Science and Technology (DST) for setting up an ultra- modern milk processing unit at Rani Chaouri in Tehri Garhwal.
"We propose to make more milk products by value addition that could fetch even better returns ," added Bahuguna.