Fisheries: Govt yet to take the bait
Jotirmay Thapliyal
Tribune News Service
Dehradun, February 19
Fisheries could be the new way to Uttarakhand's prosperity and the state can end up earning a revenue up to the tune of Rs 10 crore per annum if it succeeds in using its hydro-power reservoirs for fish farming. Bestowed with rivers, rivulets and water bodies, the state has tremendous scope for the development of fisheries.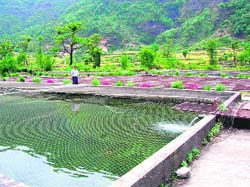 A fish pond at Mandal valley in Chamoli district. A Tribune photograph
Uttarakhand Fish Farmers Development Agency manages 85 per cent of fisheries works in the state while the rest is done by the state Fisheries Department. The prestigious GB Pantnagar Agriculture University has also taken up a project for promotion of fisheries but at a smaller scale.
The Uttarakhand Fish Farmers Development Agency earns as much as Rs 3.5 crore annually. A total of 1,150 tonne of fish was produced last season. Emboldened by the success achieved in its reservoirs located at Udham Singh Nagar district, the agency had, some time back, written to the government with special reference to the Tehri Dam reservoir.
The agency had argued that fish production levels can soar within 4 to 5 years of the handing-over of these reservoirs for fisheries.
The agency works at Nanak Sagar, Begul, Dhaura, Bor, Haripura and Tumaria reservoirs in Udham Singh Nagar.
On the other hand, the state fisheries department looks after Bhimtal, Naukuchiyatal and adjoining water bodies in Nainital district but has little stake in promotion of fish farming.
The mammoth reservoirs of hydro-power projects like Tehri Dam, Maneri Bhali, Vishnuprayag and others are not being utilised for fish farming.
"These high-altitude reservoirs can be a boon for increasing the production level of mahseer and trout - the two most sought-after varieties of fish in the country", claimed RS Chauhan, director, Uttarakhand Fish Farmers Development Agency.
Trout fetches as much as Rs 500 to Rs 600 per kg. The shawl fish of Uttarakhand is sold as high as Rs 200 per kg in the Siliguri market. There are 20 to 22 other small reservoirs that fall under the ambit of the state Forest Department which too are devoid of fish production.
Chamanlal Balmiki, who heads the Uttarakhand Fish Farmers Development Agency, does not rule out the possibility of promotion of fisheries in hydro-power reservoirs. "It would only be to the benefit of the state and foremost the local farmers, if fisheries are promoted in the hydro-power reservoirs", Balmiki said.
Interestingly, there have been very few efforts on the part of state government to promote fish farming in the state. This is despite that the fingerlings rohu, katala, nain, silver carp and grass carp varieties produced by the state are high in demand in other states. Hempur Kashipur fish hatchery produces 375 crore fingerlings every year. Uttar Pradesh and Himachal Pradesh purchase these fingerlings to use in their reservoirs for fish production.
Uttar Pradesh purchased as many as 14 lakh fingerlings from Uttarakhand this year whereas neighbouring Himachal Pradesh last year had purchased as many as 90 lakh fingerlings from the state.
Apart from producing fingerlings, fish that come up in Uttarakhand's reservoirs include jhinga, bakhur, pudding, tagon, shawl, mauya, sheleng and beed.
There are problems galore for infrastructure in the fisheries sector. The Uttarakhand Fish Farmers Development Agency that began in 2004-05 faces a shortage of employees. It has a staff of 28 employees despite being in the thick of activities for the promotion of fisheries.
To add to their woes, despite being a profit making concern and having deposited a principal amount of Rs 10 crore, its employees are yet to get the benefits of the Sixth Pay Commission recommendations.
The agency had purchased as many as five speed boats to check pilferage of fishes from Nanaksagar, its biggest reservoir having a periphery of 22 km. This reservoir in itself provides a major chunk of fish providing a revenue of over Rs 1 crore every year to the department. The agency also provides subsidised feed to the farmers like granules, pellets and powder. But a lot more still needs to be done. Prem Prakash, a farmer in Udham Singh Nagar, said that Uttarakhand by the virtue of being bestowed with numerous natural and man made water reservoirs can utilise this potential in a big way. He admitted that the government was still to focus on the fisheries sector.
Uttarakhand has only one fish 'mandi' located in Kichcha in Terai belt while fish are also taken to Delhi, Lucknow, Gorakhpur and Siliguri 'mandis' for sale. While fish from Uttarakhand are favourite among buyers but little attention has been paid to fish promotion.
Fisheries have also opened up another vista in eco-tourism. Sports like angling can also be promoted.
There is no denial to the fact that a nutritious food product like fish can not only help people in eradicating malnutrition, but can also create employment opportunities.