CII's blueprint for better tomorrow
Umesh Dewan
Tribune News Service
Dehradun, February 21
There is need to increase expenditure on health and education; achieve inclusive growth to ensure social security, provide basic amenities in remote areas and create world-class physical infrastructure in Uttarakhand. These are some of the major findings of Uttarakhand@75 - Vision document for Uttarakhand for the next 15 years - that has been prepared by Confederation of Indian Industry (CII).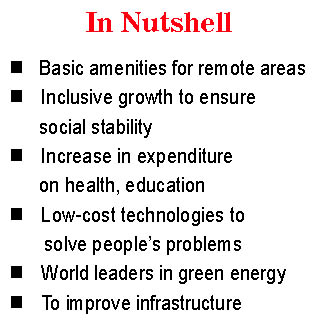 Deputy chairman of CII northern region Harpal Singh said the document highlights the aspirations of people from the grassroots level to every section of society, including business, agriculture, science and technology, health, education, public administration, governance, arts, sports, literature and environment. Terming it as a "blueprint" for future progress of Uttarakhand, he said the document suggests a way forward for making collective efforts to achieve Vision 2022. The document aims "Towards Robust Growth and Inclusive Development". However, it does not provide details of the projects and activities that are to be implemented to realise that aim.
A thorough perusal reveals that one of the main aspiration of the people here is that all villages should be connected by metalled roads and major cities by multi-lane highways. The document also mentions that provision of safe drinking water, cooking gas, sanitation and waste disposal facilities should be provided across the state.
"Free, compulsory and quality primary education for all children; access to job-oriented vocational training and setting up institutions of higher learning having focus on research for solving local problems are some of the main issues with which majority of people here were concerned," said Rakesh Oberoi, chairman, CII Uttarakhand State Council.
As far as healthcare is concerned, all sections of society had stressed upon ensuring universal and affordable health services, access to specialty healthcare at district level through specialty hospitals and medical colleges, besides a special focus on providing maternal and child healthcare, especially in remote areas.
Another interesting thing is regarding the art, sports and literature.
People feel that there should be art and culture centres at all major tourist destinations, world-class sports infrastructure and training facilities in Garhwal and Kumaon regions, besides need for organising events to promote and preserve the state's art and culture, and also for promoting tourism. Notably, at present the state is lagging far behind in terms of good sports infrastructure.
For the agriculture sector, the vision document mentions that there is need to improve market linkages, support for mixed forestry, which can play an important role towards sustainable agriculture in the hills, and improving the yield and quality of agricultural products by providing access to latest agri-technology and irrigation facilities.
Oberoi said people wanted economic criteria to be the sole basis for all reservations for achieving inclusive growth and providing equal opportunities to all. Promoting micro and small enterprises, encouraging green and environment-friendly industries, putting the state on global tourist destination map through leveraging its spiritual, cultural, natural and adventure tourism potential, and to be the world leader in green energy by making use of the state's hydropower potential, are some other observations of people that have been listed in the vision document.
Need to use science and technology in exploring renewable energy options; promoting agri-biotechnology, herbal medicines, production and processing industry; and improving the quality of life for hill women by providing low-cost and appropriate technologies for eliminating drudgery, are some of the other points mentioned in the vision document.
What is Uttarakhand@75?
CII State Council kickstarted the exercise to prepare the vision document on September 24, 2008, as part of CII's initiative towards building a national vision based on peoples' aspirations, using a bottom up approach. For the purpose, a task force was constituted with CII state chairman Rakesh Oberoi as chairperson.
The process of learning the aspirations of people and framing the document was planned and modelled through a methodology developed by Boston Consulting Group (BCG), India. Officials of the state planning and finance department emphasised on the importance of involving people from the grassroots level, including women.
The deliberations were followed by stakeholder workshop designed to capture the aspirations of people. Later, three more workshops were conducted - one each at GB Pant University of Agriculture, Pantnagar; HNB Garhwal University, Srinagar and IIT Roorkee. As many as 1,500 persons representing the state government, academia, students, institutions, media, NGOs, civil society, framing community and industry participated in 25 workshops, which were facilitated by professor of information technology and systems at IIM Lucknow Prof Bharat Bhasker.
After the workshops and interaction with people from different strata of society an elaborate report - Uttarakhand@75 - was compiled.