SHO, SE face-off trips anti-power theft police station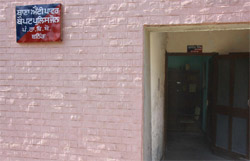 Bathinda, March 1
Controversy has clouded the recently launched anti-power theft police station in Bathinda zone with a verbal duel ensuing between a a superintending engineer (SE) of the Punjab State Electricity Board (PSEB) and the SHO concerned.

The anti-power theft police station in Bathinda that is now mired in controversy. A Tribune photo: Kulbir Beera
NRI couple assaulted, robbed in Ferozepur hotel
Ferozepur, March 1
A San Francisco (USA)-based NRI couple, who came here to attend the wedding of the son of their friend, were brutally assaulted and all their belongings, including luggage, passports, credit cards, jewellery, US dollars and other travel documents, were robbed at gunpoint at a local hotel here last night. The victims were staying in the hotel.
Insects emerge from wheat lying in school
Kids develop skin problems
Fazilka, March 1
Incidence of insects and pests emanating in bulk from wheat stocks lying at the Government Primary School No. 1, Bhairaon Basti, has exposed students to health hazards.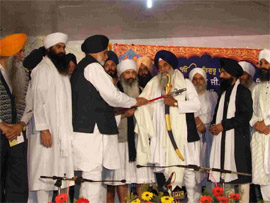 Irrigation Minister Janmeja Singh Sekhon honouring the Singh Sahib Gyani Gurbachan Singh, Jathedar, Shri Akal Takht Sahib, at the historic Saragarhi Gurudawara on the occasion of Gurmat Samagam held by Baba Sadhu Singh and Baba Lakha Singh of Nanak Sar Kalare Wale. A Tribune photograph
Moga engg college, New Zealand govt ink MOU
Moga, March 1
The Northwest Institute of Engineering and Technology, Dhudike (Moga) has signed a MoU with New Zealand government for mutual exchange of students. Under the agreement, students of this institute may opt for studying some of the courses and get practical training in New Zealand.
School goes hi-tech
Faridkot, March 1
Major Ajaib Singh Senior Secondary School at village Jiwanwala in collaboration with a world renowned company 'Educomp' has introduced the latest and highly modernised technology available in the developed nations in its classrooms.
Seminar on horticultural commodities concludes
Diversification of agriculture need of the hour, say agro-scientists
Abohar, March 1
Agro-scientists from different states participated in the two-day seminar, sponsored by the National Horticultural Board (NHB), which concluded in the Central Institute of Post Harvest Engineering and Technology (CIPHET) here on Saturday evening.
Blue cards distributed
Abohar, March 1
Balluana MLA Gurtej Singh Ghuriana during a whirlwind tour of the villages distributed 4000 blue cards among the BPL families, who had not been covered in the first instance. The villages covered during the last 48 hours included Pattisadiq, Dhaani Maseet, Jhurarkhera, Dhaba Kokrian, Shergarh, Ramsara, Chanankhera, Chak Kala Tibba, Dhrangwala, Dhinganwali, Jodhewala, Tajapatti, Kerakhera, Bahawalbassi and Bhagu.
Neuro-therapy has great healing power, says expert
Bathinda, March 1
Organisers of the Neuro-therapy Centre being run by the local unit of the Sewa Bharti have claimed that a majority of ailments can be prevented and cured with proper implementation of elements of neuro-therapy.
Shaheed Navpal Singh Sidhu Inter-state Championship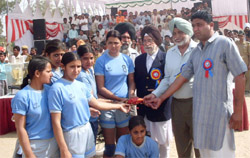 Muktsar girls win kabaddi tourney
Sriganganagar/Abohar, March 1
Rupinder Kaur of the Guru Nanak College for Girls, Muktsar was adjudged the best player among girls during the Shaheed Navpal Singh Sidhu Memorial Inter-state Kabaddi Tournaments held in Padampur area of Sriganganagar on Sunday.

Winner of the Shaheed Navpal Singh Sidhu Memorial Kabaddi Tournament, Guru Nanak College for Girls, Muktsar, receiving the prize on Sunday. A Tribune photograph