Herbal gardens come to schools
Jotirmay Thapliyal
Tribune News Service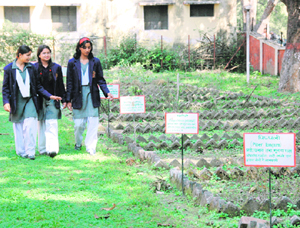 School children at a herbal garden in Dehradun. A Tribune photograph
Dehradun, March 3
To make a beginning in herbal awareness, Uttarakhand has set its School Herbal Gardens programme rolling with other parts of the country to follow suit soon.
An innovative initiative, it entails creation of herbal gardens within schools which would include some lesser known varieties that are of immense importance in daily use, thus helping sensitise the schoolgoing community to herbs and shrubs.
The herbal garden is to come up on 200 sq km within the confines of the school and will include a minimum of 10 to 12 species of herbal plants.
Green Foundation, an organisation working for the promotion of medicinal plants, has successfully set up one such herbal garden at Kendriya Vidyalaya, FRI.
The foundation has identified 50 schools in the first phase of the programme, including schools in Uttarakhand and Uttar Pradesh.
"There is a need to make everyone, including our younger generation, aware of various kinds of Indian herbs and their significance in our lives and the best place to sensitise the students are schools," says Dr Ravindra Sharma, consultant and technical expert of Green Foundation.
After Kendriya Vidyalaya, we intend to set up herbal gardens at Gautam International, Pestle Weed, KV Salawala and Children's Academy.
Some other schools too have shown interest in establishing herbal gardens within the school campuses.
There is no denying the fact that knowledge of these students of medicinal plants is very little, as they find no information on the subject in their academic curriculum.
Green Foundation has been concentrating in its efforts to ensure that children get adequate exposure towards herbs.
Principal of Kendriya Vidyalaya (FRI) Dr Lalima Verma said the herbal park provoked a lot of interest in children.
Admitting that children's knowledge on herbs was found wanting in the present-day educational scenario, she said the KV FRI herbal garden certainly brought children closer to nature.
She said the garden was well-maintained and students took active interest in maintenance of these parks.
Welcoming the initiative, Dr Aditya Kumar, who heads the Medicinal Plants Board in Uttarakhand, reiterated the state government's commitment to promoting medicinal plants in the state.
He said the concept of herbal garden in schools was commendable and would go a long way to boost herb cultivation in the state.
He said the state government was providing material for cultivation of herbal plants to 13,000 farmers in the state.
Dr Maya Ram Uniyal, adviser to the government on medicinal and aromatic plants, said herbal gardens were an effective tool to check the declining interest among children in herbs and shrubs.
He said such gardens held much importance for Uttarakhand, which was bestowed with an enormous herbal wealth.
While there was an endless market for herbal products in India and the West, awareness vis-à-vis medicinal plants was found wanting.
He said the herbal garden initiative was a step in the right direction.
Dr Ravindra Sharma says he had been contemplating such an initiative for quite some time and after the KV FRI success, efforts for setting up more such gardens had received a tremendous boost.
Tulsi, mint, kalihari, lemon grass, piplee and aloe vera are some of the medicinal plants that are to be planted in the proposed gardens in Dehradun schools.
However, the selection of herbs will be done taking into account climatic conditions when the foundation sets up herbal gardens in other parts of the country.
The foundation plans to take up the concept of herbal gardens to Bijnore, Moradabad, Lucknow and other cities of Uttar Pradesh.
While herbal gardens help develop awareness on the importance of medicinal plants among students, it also promotes the usage of more herbal products.
Apart from setting up the gardens, the foundation plans to distribute information among the children to help provide them with an indepth knowledge of the plants at their school garden, including medicinal properties.
Dr JK Painuli, senior lecturer, Gurukul Kangri Ayurvedic College, Hardwar, says herbal gardens in schools will make the student community realize the importance of the traditional system of medicine.
While Gurukul Kangri has such gardens, the initiative in schools is commendable.
Interestingly, the National Medicinal Plant Board, New Delhi, has a programme for
awareness of medicinal plants in schools but such an initiative has been of little
help to Uttarakhand.