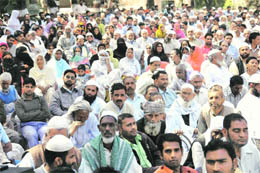 Muslims want more say in governance
Dehradun, March 9
Seeking better representation in both political and social set up of the state, Muslims cutting across party lines today convened a conference at Gandhi Park here.


Muslims attend the convention held at Gandhi Park in Dehradun on Monday. A Tribune photograph

SP fingers crossed on pact with Cong
Dehradun, March 9
Despite opposition from Uttarakhand Congress, the Samajwadi Party is still hoping against hope for a pre-poll alliance in the state. Samajwadi Party has put on hold the declaration of candidates for four parliamentary seats in the state.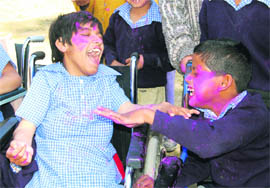 Adding colour to lives of the special
Dehradun, March 9
When everybody busy in Holi preparations Cheshire Home, a center for the physically challenged, is also looking forward to give some moments of joy and celebrations to those who need special care by society.
Special kids celebrate Holi at Raphael Home in Dehradun on Monday. Tribune photo: Anil P Rawat

Splendid hues of Baithak Holi
Dehradun, March 9
A week before Holi, the Kumaon Hills begin to resound with songs and music as revelers start gathering at each other's place to celebrate the festivities.
Play safe, switch to herbal colours
Dehradun, March 9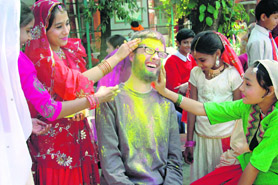 The organic Holi colours, which are available in the market, have disastrous consequences on health. Skin rash, sneezing and eruption on exposed body parts are some of the after effects of colours used liberally during the festival. Synthetic colours contain harmful chemicals. Pink colour contains rhodamine B, violet or blue is methyl, violet, green is malachite green and yellow is auramine.
Students of Nanhi Duniya school apply colour to a foreigner in Dehradun on Monday. A Tribune photograph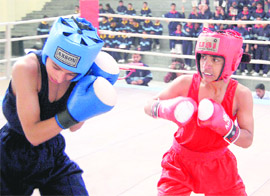 Ligang, Avnish enter final
Dehradun, March 9
Cadet Ligang Kobing (P) and Cadet Avnish Singh (R) entered the final of the Inter-Section Boxing Championship of the 42-45 kg and 39-42 kg category respectively held at Sports Complex of RIMC. They both displayed excellent skills to win their hard fought bouts. A total of 20 bouts were fought, here today.
Boxers at Inter-Section Boxing Championship at Rashtriya Indian Military College in Dehradun on Monday. A Tribune photograph

SC to clear pending cases in 5 years
Nainital, March 9
The Supreme Court is formulating a five year plan to deal with the 3 crore cases pending in different courts in the country.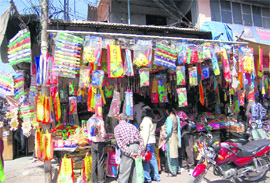 Holi Days are here again: Rush at a shop selling colours and water guns in Dehradun on Monday. A Tribune photograph

Comply with poll code: DM
Dehradun, March 9
The District Magistrate cum District Election Officer Amit Singh Negi has instructed the SSP, chief development officer, SDM and returning officers to ensure the strict compliance of the Model Code of Conduct. He said the use of the government vehicles, guest houses and other government property for the election process will not be allowed. He also said the public representatives/ministers would be using their official vehicles only for going from home to office and vice versa. He added that in case of violation of the poll code, an FIR would be lodged.
Corbett Park all booked
Dehradun, March 9
With Holi round the corner, tourists have started flocking the Corbett National Park. The accommodations at the famous Dikhala zone and other zones including Bijrani, Jhirna and Durga Devi at Corbett stand fully booked for March 11 and 12.