Minority status: Kashmiri Pandits resent delay
Jammu, March 13
The executive committee of 'Vision Kashmir', an organisation of displaced Kashmiri Pandits expressed unhappiness over delay in granting minority status to their community by the Central and the state governments despite knowing the intricacies and complexities involved in the situations under which they were forced to leave their homes.
Kashmiri Pandits rue poor infrastructure
Jammu, March 13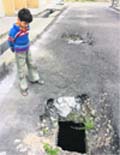 There is resentment among 184 families of displaced Kashmiri Pandits who have been allotted two-room tenement (TRT's) in Nagrota 11 months ago against the infrastructure problems in the new accommodation. This has escalated their tiff with the Relief & Rehabilitation Commission in Jammu. The locality has become a bone of contention for the Relief & Rehabilitation Commissioner's office as the allotment of remaining 200 vacant flats out of total 384 too has mired in controversy of doling out favors.
Such open sewerage manholes speak volumes for the pathetic condition of infrastructure in Kashmiri Pandits' Colony in Nagrota. Tribune photo: Anand Sharma
Fresh clashes shatter peace in Srinagar
Eight securitymen among 24 injured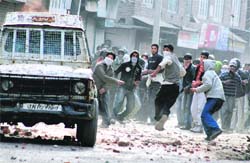 Srinagar, March 13
The fragile normalcy in Srinagar downtown over the past one week was shattered once again after the Friday prayers today when fresh clashes between protesters and the police took place in the Jama Masjid area.



Stone-throwing protesters target a police vehicle in Srinagar on Friday. Tribune photo: Amin War
Cong MLAs oppose mandate to sitting MP
Udhampur, March 13
Even as the Congress high command has not yet finalised name of the candidate for the Udhampur-Doda Lok Sabha seat, newly elected MLAs of this constituency have strongly opposed any attempt to repeat sitting MP Choudhary Lal Singh from this constituency.
BJP: Farooq's statement politically motivated
Jammu, March 13
The recent statement made by Dr Farooq Abdullah that the BJP and the PDP have joined hands has been termed totally irresponsible and politically motivated by the BJP. Party spokesperson Ramesh Arora said the BJP always opposed the Kashmir-centric leaders and parties for discriminating against the Jammu region. "The BJP had voted in recent elections of the in favour of the JKNPP candidate and not the PDP candidate. Slogans raised by few local leaders against the BJP are political motivated.
Big response to police recruitment rally
Reasi, March 13
Braving militant threats, Rashid came all the way from Mahore to participate in the recruitment rally organised by the Jammu and Kashmir police.
Researchers rue delay in scholarship
Jammu, March 13
The scholars pursuing PHd and M Phil in Jammu University have accused the varsity administration of discouraging research work. The meritorious researchers have been denied scholarships.
Delimitation
Bhim Singh argues case in HC
Jammu, March 13
A Division Bench of the Jammu and Kashmir High Court today heard the arguments of Prof Bhim Singh on a writ petition filed by his party to seek delimitation of the Assembly seats in the state.
Class X exams begin
Jammu, March 13
With the examination of optional subject taken on March 12, the annual examination of class X, State Board of School Education, started. The examination of main subjects will start tomorrow and will conclude on April 1.
Devotees throng mosques
Srinagar, March 13
Following Eid-e-Milad big congregations were seen across the Kashmir valley today where a large number of people offered Friday prayers in mosques.
Official held for selling TV sets
Rajouri, March 13
Yousuf Khan, an assistant in the Revenue Department, was held today following a complaint by some locals that he was selling television sets and Dish antennas meant for anganwari centres, schools and panchayat ghars in Darhal area.
One held while crossing border
Jammu, March 13
A youth was arrested by the security forces on the Indo-Pak border in Jammu district when he was trying to cross over to Pakistan today, official sources said.
Ultra held
Srinagar, March 13
A Harkat-ul-Mujahideen (HuM) was arrested along with a grenade and some ammunition in Baramulla district today.
Forest fire along LoC
Rajouri, March 13
Forest fire along the LoC, which reportedly started from the border, spread to the outskirts of three villages - Kanga Gali,
Cross-LoC bus service resumes
Srinagar, March 13
The weekly 'Carvan-e-Aman' bus service between Srinagar and Muzaffarabad in PoK resumed a week after it was temporarily suspended following a request from Pakistan.
BSF jawan missing
Jammu, March 13
A BSF personnel, who had come to his hometown on leave, went missing from his village in Rajouri district, the police said here today.
Ban on use of cellphones by invigilators
Jammu, March 13
The Board of School Education (BOSE) has banned the use of cellphones by invigilators in examination halls. This ban was earlier imposed only on students.
Company using 'poor' material
Jammu, March 13
Shiv Sena Hindustan has derided National Buildings Construction Corporation (NBCC) Limited for allegedly using substandard material in laying sewerage pipes in Jammu and Srinagar.
Programme on disaster preparedness
Srinagar, March 13
A programme to empower community on disaster preparedness was organised by the Civil Defence in collaboration with the United Nations Development Programme (UNDP).