CM for tunnel on Mughal road
Jammu, March 24
Chief Minister Omar Abdullah has stressed on exploring the possibility of a tunnel between Zaznar and Ratachamb on the Mughal road to bypass 11,500 ft-high Peer Ki Gali to shorten distance and making the road a more dependable alternative highway.


Tulip garden thrown open
Srinagar, March 24
Chief Minister Omar Abdullah today hoped that tourists, both domestic and international, would visit the local tulip garden to enjoy its vast expanse having about 12 lakh tulips of different varieties and colours in full bloom. He was the first to purchase an entry ticket this morning when the garden was formally thrown open for public this year after it had been first opened last year.
Chief Minister Omar Abdullah takes a round of Tulip Garden.
Girl's killing spurs protests
Accused on 15-day police remand
Udhampur, March 24
Demanding action against all those involved in the eve teasing incident that led to the killing of a girl, Naseem, in the Krimichi area yesterday, a large number of people held a protest and shouted slogans against the authorities here today.
Kupwara gunbattle ends
Death toll 25 as 6 more ultras shot
Srinagar, March 24
Six more militants were killed today, taking the death toll in the fierce gunbattle between militants and the security forces in Kupwara district to 25 as the five-day-long standoff ended this evening.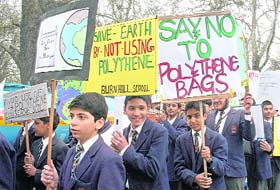 Students take out a rally against the use of polythene in Srinagar on Tuesday. Tribune photo
Hizbul militant, accomplice held
Jammu, March 24
The police arrested a militant and an overground worker of the banned Hizbul Mujahideen (HM) militant outfit here today. With the arrest of HM militant Zaid Ahmed Dar, alias Mubassir, of Mustafabad HMT in Srinagar and overground worker Ateeq Ullah Dar of Behota Mohalla in Doda district a major tragedy had been averted, the police said.
Ranjeet Sagar Dam: Govt to talk to Punjab, Centre
Jammu, March 24
The state Cabinet today decided to take up the Ranjeet Sagar Dam project with Punjab and Central governments. The state government had signed an MoU with the Punjab government long ago wherein Punjab was to raise the dam over the Ravi, 26 km away from Lakhanpur near Basohli Morh.
World TB Day
Patients avoid talking about disease
Srinagar, March 24
The world might have progressed by leaps and bounds over the years, but when it comes to tuberculosis scenario in Kashmir the people affected by it are unwilling to share information as they fear isolation.
Awareness rally held
Udhampur, March 24
The District Tuberculosis Center, Udhampur, observed World TB Day on the premises of District TB Hospital, Udhampur, today. Additional Deputy Commissioner, Udhampur, Nasir Iqbal Parey was the chief guest on the occasion.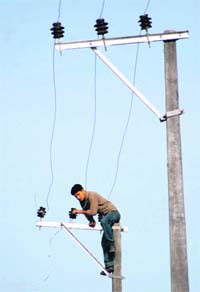 A lineman perched precariously atop a pole mending a transmission line in Jammu on Tuesday. Photo: Inderjeet Singh
Tenants demand proprietary rights
Jammu, March 24
Expressing anguish over the forcible eviction of the Salaria family from a property near Indira Theatre by the Custodian Department, the Evacuees Property Tenants Welfare Society today demanded proprietary rights and other relief for the tenants.
Vaishno Devi board gears up for Navratras
Jammu, March 24
As the auspicious nine days of Navratra are beginning from March 27, the administration of the Shri Mata Vaishno Devi Shrine Board has pulled up its socks to meet the massive challenge of making all arrangements for the arrival of a number of devotees.
2 killed in road mishap
Udhampur, March 24
An aged man and his daughter-in-law were killed when a vehicle fell into a gorge near the Thathri area of Kishtwar district this morning. The deceased have been identified as Qesar Begum and Haider Ali, residents of the Inderwal area in Kishtwar.
Mankotia named state JKNPP chief
Jammu, March 24
The Jammu and Kashmir National Panthers Party (JKNPP) reconstituted its state committee and appointed Balwant Singh Mankotia as state unit president and Ghulam Ali as president of its Young Panthers wing.
Nod to Rs 4.4-cr EPF budget
Jammu, March 24
The government has approved an estimated budget of Rs 4.40 crore for the Employees Provident Fund for 2009-10. This was decided at the 71st meeting of the Board of Trustees of Jammu and Kashmir EPF Organisation held here under the chairmanship of Minister for Industries and Commerce, Labour and Employment Surjit Singh Slathia.
Migrants can vote by postal ballot
Jammu, March 24
The Election Commission has issued a notification enabling migrant voters enrolled in any of the three parliamentary constituencies of Kashmir to cast their votes through postal ballot.
Verma is CTA chief
Jammu, March 24
Professor Sanjay Verma, Department of Physics, Government Gandhi Memorial (GGM) Science College won the presidentship election of the College Teachers Association (CTA) today.
Ammunition seized
Jammu, March 24
The Army seized a cache of arms and ammunition in the general area of Malnar late last night. An Army spokesman said the seizure included one AK rifle magazine, 31 rounds of ammunition, a radio set ICOM, four detonators and miscellaneous stores. — TNS