MC wakes up, to monitor 20 other tanks
Dharmendra Joshi
Tribune News Service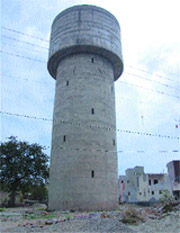 The MC has made a plan to dismantle those tanks which are not in good condition and were built nearly four decades back.

Jalandhar, March 24
The Municipal Corporation (MC), Jalandhar, has finally woke up from its slumber after Saturday's incident of the collapse of the parapet of a water tank located near Sadasukh Chopra SD Public School in the Santokhpura locality in Ward 6.
Three persons were killed and one was wounded in the incident.
MC Commissioner Vinay Bublani told The Tribune that all 20 water tanks located in different parts of the city would be inspected and, if required, the process of pulling some of them down would be initiated by inviting tenders.
Interestingly, he claimed that the MC had already made a plan to dismantle those water tanks which were not in good condition and had been built nearly four decades back.
According to information gathered by The Tribune, the Santokhpura water tank had been built by the sewerage board in 1981-82 and was handed over to the MC.
Meanwhile, corroborating the MC Commissioner's statement, Mayor Rakesh Rathour said a plan had been made to present a proposal in the next House meeting regarding inviting tenders to pull down the old water tanks after their inspection.
In the meantime, Bublani further said to avert any kind of tragedy, barbed wires would be fixed around the tanks so that no one could come near them.
Earlier, several inhabitants of Santokpura, including Jaswinder Singh and Sukhwinder Kaur, and those of adjacent localities, including Manohar Sharma of Ambika Colony, demanded that the MC should dismantle the remaining part of the water tank in Santokhpura to avoid any further mishap as it had developed cracks.
Several other residents expressed the view that the MC should not make any delay in pulling down those of the total 20 water tanks which were in poor condition.
Answering a query, Bublani said the Chief Vigilance Officer (CVO) of Local Bodies Department A.K. Prabhakar was looking into the causes which led to the collapse of the parapet. Only after submission of his report it would be clear whether there was any negligence on the part of the administration in the collapse or not, he added.
When contacted, Prabhakar said he had asked the departments concerned of the MC and the sewerage board to submit the records pertaining to the water tank. It would take at least one month for the completion of the inquiry, he said.
The police is also waiting for the inquiry report to take further action in the matter. Police station No 8 SHO Nirmal Singh said proceedings under section 174 of the CrPC had been initiated in this case and further action would be taken on the basis of the report of the CVO inquiry.