Nomination of MLCs poll code violation: BJP
To rake up issue during LS campaign
Jammu, March 30
The BJP is geared up to make the nomination of members to the Legislative Council an issue in the Lok Sabha elections. It believes the nomination of MLCs at this time is a violation of model code of conduct.
Six return to NC fold
Srinagar, March 30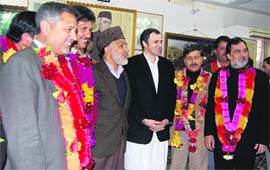 At least six leaders, including former legislator Sheikh Mohammad Rafi and Ghulam Nabi Bhat, returned to the ruling NC here today. They joined the party in the presence of Chief Minister Omar Abdullah. Former Chief Minister Farooq Abdullah could not attend the ceremony on health grounds, Omar said. Sheikh Mohammad Rafi, the party's former MLA from Shopian, had recently joined the PDP here. Others who joined the NC included Ghulam Qadir Tak and Ghulam Nabi Bhat.
Chief Minister Omar Abdullah poses with leaders who returned to the NC fold in Srinagar on Monday. Tribune photo
Tribune Impact
Finally, MC starts cleaning drain at Nai Basti
Jammu, March 30
Finally, the residents of Nai Basti, Shastri Nagar, got some relief from their major problem as the municipal corporation has started to clean the main drain of their area, which always remains choked with polythene bags, rags, plastic remains, earthen wares, and other types of garbage.
Procurement of apple and sandy pear
MIS fails to achieve targets
Jammu, March 30
The Market Intervention Scheme (MIS), being implemented by the director of Horticulture Planning and Marketing for the procurement of apple and sandy pear, has failed to achieve the desired results, as the achievement was just 45 per cent on financial front and 43 per cent on physical side.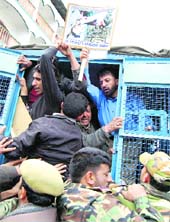 6 league members detained
Srinagar, March 30
Six activists of the People's Freedom League, including provincial president Imtiyaz Ahmad Shah, were detained when they tried to take out a rally. Shouting pro-freedom slogans, the league activists led by Shah assembled at Ghanta Ghar in Lal Chowk, the nerve centre of the city, and tried to stage a march to the local office of the United Nations Military Observers Group at Sonawar.


Activists of the J&K People's Freedom League being taken away by the police in Srinagar on Monday. A Tribune photograph
Only two Indians board bus to PoK
Rajouri, March 30
Only two Indians could manage to get travel permits and boarded the Poonch-Rawlakote bus from Poonch today, as the Pakistani authorities failed to give security clearance to more Indian visitors willing to travel to the PoK.
Geelani detained for defying house arrest
Srinagar, March 30
Syed Ali Shah Geelani was today detained and taken to Humhama police station after he tried to defy preventive custody at his house.He is likely to be put under house arrest. The police had specific information that he was planning to visit Budgam to kickstart a campaign against the upcoming parliamentary elections, official sources said.
Runaway couple moves Delhi HC for safety
Jammu, March 30
In a Muslim-majority state that seethed in rage for two straight months dividing Hindus and Muslims on communal lines over the Amarnath land dispute last year, a Muslim girl and a Hindu boy continue to fight all odds to save their inter-religion marriage.
Two ultras shot in Shopian
Srinagar, March 30
The security forces today gunned down two militants in Kellar in Shopian district. Officials said the police and 42 Rashtriya Rifles cordoned off a hideout of militants in Moshwara village and killed two of them in an encounter. Two AK rifles were seized from the spot.
Help make farming more productive: Vohra, CM
Srinagar, March 30
Governor NN Vohra and Chief Minister Omar Abdullah have called upon scientists and researchers of the Sher-e-Kashmir University of Agriculture Sciences and Technology, Kashmir, to appreciate the close relationship between the universities and the farming community for increasing agriculture production and productivity.
Robbery cracked, 4 held
Jammu, March 30
With the arrest of four persons, who had allegedly stolen guns from a gun shop in the Gangyal area, the Jammu police late this evening claimed to have worked out the robbery carried out at gunpoint in a jewellery shop in New Plots on March 13.
University staff protest
Jammu, March 30
The Jammu University Non-teaching Employees Union, the Kashmir University Ministerial Staff Association and Sher-e-Kashmir University of Science and Technology, Kashmir, held a joint demonstration in Jammu University today.
Farmers get training on soil management
Jammu, March 30
A one-day training programme on soil and nutrient management in fruit orchards under rain-fed conditions was organised for farmers at dry land research sub-station of Sher-e-Kashmir University of Agricultural Sciences and Technology, Rakh Dhiansar, here today.
Five killed in road mishaps
Jammu, March 30
Three persons were killed and 11 others were injured in different road accidents across Jammu today. Joginder Paul (45) of ward No 6 in RS Pura slipped from his scooter, near Shiv Mandir, in Kotli Shah Abdulian and succumbed to his injuries while being shifted to Government Medical College here.
PDP to empower people: Mufti
Jammu, March 30
Former Chief Minister Mufti Mohammad Sayeed said today that his party would work to empower people and emerge as their voice.