PUNJAB
HARYANA
JAMMU & KASHMIR
HIMACHAL
REGIONAL BRIEFS
NATION
OPINIONS
LETTERS
BUSINESS
SPORTS
WORLD
Every Wednesday & Saturday
Power theft rampant in Jammu
Jammu, March 31
With the electricity transmission and distribution losses from the point of generation to distribution estimated to be more than 47 per cent, the menace of power theft is prevalent in almost all localities of the city.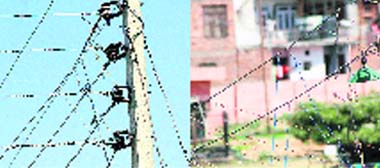 Power pilferage is prevalent in all areas of Jammu where people put kundies on transmission lines to steal electricity. Photos: Inderjeet Singh
VIPs do it openly
Jammu, March 31
Why curse only the common man for stealing electricity, VIPs dare it openly in Jammu. "Kundi" connection is no exception for VIPs living in Tawi Vihar Colony, Sidhra, which falls under the municipal ward no. 71. Many former ministers, commissioners, retired and serving IAS, IPS and defence officers, and former MLAs reside in this colony.
Students heave sigh of relief
March 28, 2009
Dingy surroundings greet passengers at railway station
March 25, 2009
Fear grips residents as new route incomplete
March 21, 2009
An apology for a bus stand
March 18, 2009
Traffic snarls disrupt life in city
March 14, 2009
Restoration work at snail's pace
March 11, 2009
Nights come alive in Dera Ki Gali
March 7, 2009
Over 1 lakh educated unemployed youth in state
March 4, 2009
Completion of Bani- Bhaderwah road to ease connectivity
February 28, 2009
City of temples turns into concrete jungle
February 25, 2009
Sheeraj residents face shortage of essential items
February 19, 2009