PUNJAB
HARYANA
JAMMU & KASHMIR
HIMACHAL
REGIONAL BRIEFS
NATION
OPINIONS
LETTERS
BUSINESS
SPORTS
WORLD
Every Wednesday & Saturday
Traffic snarls disrupt life in city
Jammu, March 13
Even though Chief Minister Omar Abdullah has a plan up his sleeves to streamline the chaotic traffic in the winter capital, the ever-swelling number of vehicles and the congested roads continue to consume human lives and give a nightmarish experience to the daily commuters, including the schoolchildren.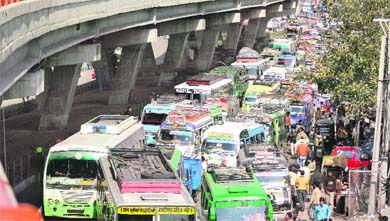 Traffic jams have become an order of the day in Jammu. Photo: Inderjeet Singh
LS polls: Students to make their presence felt
Jammu, March 13
Since the bugle for Lok Sabha elections has been sounded, student organisations have pulled up their sleeves to make their presence felt in the political landscape of the state.
Restoration work at snail's pace
March 11, 2009
Nights come alive in Dera Ki Gali
March 7, 2009
Over 1 lakh educated unemployed youth in state
March 4, 2009
Completion of Bani-Bhaderwah road to ease connectivity
February 28, 2009
City of temples turns into concrete jungle
February 25, 2009
Sheeraj residents face shortage of essential items
February 19, 2009
Ropeway project makes no headway
February 18, 2009
International airport in Srinagar to boost tourism
February 14, 2009
Private schools charge exorbitant fees
February 11, 2009
Lack of infrastructure mars tourism in Bani
February 7, 2009