Campaigning for LS polls
Cellphone users on candidates' radar
Rohtak, April 6
Cellphones have emerged as the latest medium of campaigning for the Lok Sabha elections. Besides sending SMSes, politicians are even resorting to making calls by using pre-recorded messages to cellphone users.
'Maya' factor working in state
Chandigarh, April 6
The kind of response BSP supremo Mayawati got during her election rallies in Haryana on April 4 and April 6 should set the alarm bells ringing in the Congress.
Scientists work on new onion variety to check shortage
Karnal, April 6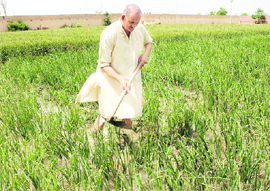 The erratic supply of onion leading to frequent shortage and glut in the country may soon become a thing of past.
A farmer works in an onion field in Daha Jagir village in Karnal. Tribune photo: Ravi Kumar