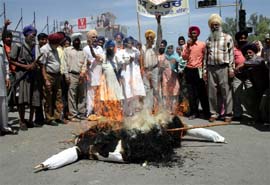 Members of the riot victim's families burn effigies of Jagdish Tytler and Sajjan Kumar, main accused in the 1984 anti-Sikh riots who were recently given a clean chit by the CBI, near the bus stand in Bathinda on Tuesday. Tribune photo: Kulbir Beera
Pollution check
Wheat harvesting at night, burning of straw banned
Bathinda, April 7
Concerned over the rising environmental pollution, the district administration has decided to act tough against those harvesting wheat at night using combine harvesters and burning the leftover straw in the fields.
Cops yet to receive 80 pc of licensed arms
Bathinda, April 7
Lok Sabha elections are barely a month away and out of the total of 26,352 licensed arms, only 5824 have been deposited with the police till date. The reason could be that the cops are busy with VIP duties or the people of this district are not much concerned even though the orders of the police.
Maintenance of parks: BMC shifts onus on residents
Bathinda, April 7
The authorities of the Bathinda Municipal Corporation (BMC) have been assigning the responsibility of maintaining the parks to the residents themselves.


Actors Harbhajan Mann and Neeru Bajwa during the shooting of a movie titled 'Heer Ranjha' at Gobindpura village in Bathinda district on Tuesday. Tribune photo: Kulbir Beera
Wheat procurement begins in Ferozepur
Ferozepur, April 7
Wheat procurement has begun in Ferozepur and all the arrangements have been completed at the 185 purchase centres, said deputy commissioner Megh Raj while presiding over a meeting with the officials of the various government agencies here today.
Ex-MC chief, others join SAD (B)
Mansa, April 7
The poll campaign of SAD (B) got a boost today when former president of the Municipal Council, Mansa, Narotam Singh Chahal, state president of Anti-Terrorist Front and MC Balwinder Singh Kaka and ex-Zila Parishad chairman, Raninder Singh Chekarian, joined the party in the presence of Sukhbir Badal, SAD chief.
CIA head constable hit by minibus, dies
Abohar, April 7
Apprehending spurt in activities of the narcotics smugglers during the harvesting of wheat crop besides the election-season, Rajasthan and Punjab police have intensified their campaign. It, however, took its toll on Monday night near Abohar.
Quiz contest organised
Abohar, April 7
The Abohar Polytechnic College won the first prize while Polytechnic College Bahmandiwana stood second in the inter-college quiz competition held at the Abohar Polytechnic College on Monday.
Man commits suicide in Fazilka, wife booked
Fazilka, April 7
A labourer allegedly committed suicide by hanging himself at village Jat Wali today. According to the FIR lodged with the Sadar Police, Fazilka, by the father of the deceased, Kartar Singh, his son Lachman Singh (32) was married to Paramjit Kaur of village Peerke Uttar of Jalalabad sub-division some 10 years back. They had four children.
Tiff with girlfriend ends with youth's murder
Bathinda, April 7
In a revenge killing, a 21-year-old youth was killed by the kin of a girl who he had slapped a few days back. According to details available, Vijay Kumar, a taxi driver by profession, had an affair with a girl, Manju Rani, residing in Jogi Nagar.
School students advised on healthcare
Bathinda, April 7
Lord Rama Public School, Bathinda, celebrated World Health Day with great enthusiasm. Principal Suraj Setia told the students that health is the most precious treasure of life and advised them to take care of their health in every way. He stressed upon the need to take a balanced diet including wheat, milk, fruit, vegetables, pulses containing vitamins, proteins, carbohydrates and fats.
19 hurt in road mishap
Bathinda, April 7
At least 19 persons, including women and children, sustained injuries when the canter in which they were travelling, turned turtle near Jeeda village this evening. They were on their way to attend a religious programme at Burj Mehma village of this district.
Yoga camp concludes
Bathinda, April 7
A week-long yoga camp organised in collaboration with the Rotary Club, Bathinda Cantt, the Innerwheel Club and the Bathinda Vikas Manch, under the aegis of Swami Surya Dev of Goniana, concluded at the Bhanamal Trust Dharamshala here today. Over 200 people attended the camp.