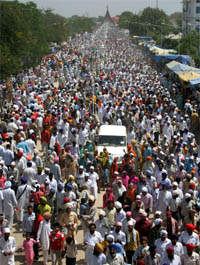 Baisakhi celebrated with fervour, gaiety
Talwandi Sabo (Bathinda), April 14
Fervour and gaiety marked the Baisakhi celebrations as lakhs of devotees thronged the Takht Damdama Sahib here today to pay obeisance. They also took a holy dip in Sarovar and partook of langar organised at the main langar hall on the Gurdwara premises. Under the banner of Nanhi Chhaan, a joint venture of Impact group, SGPC and forest department, hundreds of plants were distributed as 'Boota Parsad' at the fair. Much to the excitement of kids and youngsters, various swings and daring performances like 'death well' were also arranged.


On the occasion of Baisakhi, devotees thronged the Takht Damdama Sahib in Talwandi Sabo to pay obeisance. Tribune photo: Kulbir Beera



Day of power-packed poll show

From left: Manish Tiwari (candidate for Ludhiana Lok Sabha seat), Vijay Inder Singla (candidate for Sangrur seat), Rahul Gandhi, general secretary, AICC, and Raninder Singh (candidate for Bathinda seat) during the political conference organised by the Congress at Takht Damdama Sahib in Talwandi Sabo on Tuesday; Harsimrat Badal, SAD (B) candidate for the Bathinda LS seat and Deputy Chief Minister Sukhbir Singh Badal during the political conference organised by the SAD (B) at Takht Damdama Sahib in Talwandi Sabo on Tuesday. Tribune photos: Malkiat Singh/Kulbir Beera
Youth yet to make up their mind
Bathinda, April 14
Although the political parties and candidates are not leaving any stone unturned in wooing the voters for the forthcoming Lok Sabha elections, it seems that they have failed to strike a chord among the youth.
Climate concurs with poll fever
Bathinda, April 14 
Politics and weather do not have any connexion. But the two are seemingly intertwined, at least in Bathinda, if their behaviour pattern is anything to go by.
GSP candidate cries foul
Bathinda, April 14
In a written statement, Lachhman Singh Jaura, the General Samaj Party (GSP) candidate for the Bathinda Lok Sabha seat, today alleged that his vote has been deleted from the voters' list illegally.
Support for Congress
Bathinda, April 14
Hariram Kirad, president, Kabir Dharamshala, Kanhaya Nagar, joined the Punjab Pardesh Dhanak Samaj (Indaura Group) along with his supporters, a press release issued here today said.
LS Polls
Gulshan intensifies campaigning in Moga
Moga, April 14
The SAD-BJP candidate for the Faridkot Lok Sabha seat, Bibi Paramjit Kaur Gulshan, as part of her election campaign, visited the Moga town today and held a series of street corner (nukkar) meetings to woo the voters.
Punj flays Congress
Ferozepur, April 14
The Congress-led UPA government has miserably failed on all fronts as squalor, illiteracy, terrorism and inflation has ruled the roost during the last five years of its misgovernance, alleged Balbir Punj, MP and BJP general secretary while interacting with the media here today.
Jagmeet Brar, Mand file nominations
Ferozepur, April 14
Congress candidate from Ferozepur, Jagmeet Singh Brar is learnt to have filed his nomination today. His wife, Amanpreet Kaur, filed nomination papers as a covering candidate. Though Brar's camp claimed that he would file his nomination papers tomorrow in the presence of Captain Amarinder Singh, he quietly filed his papers today which came as a surprise and created some confusion.
BJP nominee Nihal Chand holds meetings
Hanumangarh/Abohar, April 14
Even when initial reports had suggested that the sitting MP Nihal Chand Meghwal had high hopes on retaining the Sriganganagar seat while recontesting as the BJP candidate, attendance less than expected in the meeting addressed by him have rung alarm bells, observers feel.
Rich tributes paid to Ambedkar on birth anniversary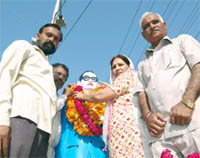 Abohar, April 14
Representatives of different NGOs led by social activist Khazan Devi Parihar celebrated the birth anniversary of Dr BR Ambedkar by garlanding his statue at the Ghantaghar Chowk here today. They raised slogans like "Baba Sahib Amar Rahen" and distributed sweets among the public. — OC


Citizens paying floral tributes to Dr BR Ambedkar on his birth anniversary in Abohar on Tuesday. Photo: Raj Sadosh

Stray dog menace in Moga
Admn to launch sterilisation drive
Moga, April 14
Taking a serious note of the incidents of attacks by stray dogs on children, the Moga district administration has decided to launch sterilisation programme for stray dogs.
Drive against straw burning launched
Moga, April 14
The District Magistrate of Moga Satwant Singh Johal has launched an awareness campaign, 'Jago' by sending 10 teams to various locations in the district, which will distribute pamphlets highlighting environmental concerns and hold talks at the panchayat level to educate the farmers against setting the wheat straw on fire after harvesting the crop.
Wheat crop gutted
Mansa, April 14
Wheat standing in nearly thirteen acre of land was burnt at village Jawaharke on Monday.
Woman kills daughters, self
Sriganganagar/Abohar, April 14
A housewife Bhawna (22) reportedly consumed celphos after serving the same to twin daughters, Bhavya and Bhoomi (2), in the Purani Abadi area of Sriganganagar late last evening. They were rushed to the district hospital but died at about 11 pm, sources said.