Every Wednesday & Saturday
Varsity students exposed to health risks
Jammu, April 14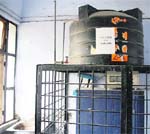 Most students of Jammu University carry drinking water with them instead of relying on the water availabile on the campus due to unclean water tanks and containers coupled with the absence of water purifiers.
A water tank in a Jammu University department which has not been cleaned for a long time. Tribune photo: Anand Sharma
Cricket buffs gear up for IPL
Jammu, April 14
Cricket fans here are all geared up for the Indian Premier League matches. Many are adjusting their daily schedules to watch the matches. Even though the IPL is being held in South Africa, the organisers have promised that the match timings would remain the same.
Jammu youth take fancy to latest gizmos
Jammu, April 14
Latest gizmos, including trendy laptops, mobile phones, ipods and MP3 and MP4 players, the youth in Jammu are getting trendier by the day with the usage of these latest electronic items.