CM quoted out of context: Rana
Jammu, April 15
Chief Minister Omar Abdullah's political adviser Devender Singh Rana has described as incorrect and misinterpreted the news report in a section of the media twisting the remark of the Chief Minister made in a lighter vein during his election rally at Vijaypur yesterday.
NC bartered state's interests for power: Mehbooba
Srinagar, April 15
PDP president Mehbooba Mufti has said the successive accords of the NC with the Centre were always used by the party to grab power, bartering in the process the state's political and economic interests.
Polluted Tawi no poll issue
Jammu, April 15
Quiet flows the Tawi, ignored and much abused by city residents. Untouched by the humdrum of the 15th Lok Sabha elections, the river, where folklore says goats and tigers drank water together from it, is one of the most polluted water bodies now.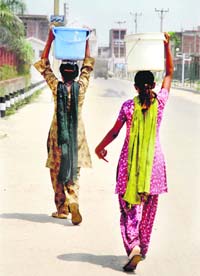 With the summer round the corner, water seems to have become a rare commodity in Jammu. Tribune photo: Anand Sharma
NHPC Projects
Mufti wants state compensated
Udhampur, April 15
With resentment brewing among residents of Doda and Kishtwar districts over not getting benefits from hydel projects functioning in their areas, the PDP has stepped up its campaign in this connection.
People here see God's will in lack of development
Chak Drow (Rajouri), April 15
"You tell me whom should I vote for? I have voted three times before, but no one ever does anything for us. So far no government agency has supplied any seed or fertiliser.
New farming methods for Ladakh, Kashmir
Srinagar, April 15
Vice-Chancellor, Sher-e-Kashmir University of Agricultural Sciences and Technology (SKUAST), Kashmir, Anwar Alam has urged the scientific community to put in strenuous efforts to address emerging challenges in agriculture and allied sectors.
Border migrants yearn to return home
Qasba-LoC (Poonch), April 15
Forced by the hostility between India and Pakistan in late 90s to migrate from their native village of Kerni near LoC, the border migrants, who are living in single-room hutments here, have only hope from the representative they will vote on April 16.
Expenses Details
Two violate EC norms, penalised
Jammu, April 15
Though they aspire to be MPs in the 15th Lok Sabha, a day ahead of the polls they were penalised for violating the Election Commission's guidelines for not furnishing expenditure statements before returning officer for the Jammu-Poonch parliamentary constituency Mandeep K Bhandari.
Parties keeping tab on rivals' activities
Jammu, April 15
Day before the first phase of the Lok Sabha elections, the candidates are meeting people at personal level and have roped in people who are influential in their localities to attract more voters. Party activists are distributing election slips door-to-door that carry the information of particulars and serial numbers of voters.
Plan to preserve, digitalise rare manuscripts
Jammu, April 15
The Jammu and Kashmir Academy of Art, Culture and Languages has taken up a mega project to catalogue and preserve rare manuscripts of all regions of the state.
Bhim for defeat of Cong, BJP
Jammu, April 15
Chairman of the Jammu and Kashmir National Panthers Party (JKNPP) Bhim Singh has urged people to defeat the Congress and the BJP in the Lok Sabha elections.
CBSE-affiliated schools more popular
Jammu, April 15
The Central Board of Secondary Education (CBSE)-affiliated private schools are getting an edge over private schools affiliated to the State Board of School Education (BOSE) as well as the government schools.
Boozers on a buying spree
Jammu, April 15
Boozers are on a wine purchase spree as the Election Commission imposed a blanket ban on the sale and purchase of liquor in view of the Jammu-Poonch Lok Sabha election tomorrow.
Police told not to arrest couple
New Delhi, April 15
The Supreme Court today restrained the state police from arresting the couple, Anjum Hussain (18), alias Bhawani, and Khemraj (23) from the state, who reportedly got married in Delhi on March 26 against the wishes of their parents.
Vohra mourns death of soldiers in Kupwara
Jammu, April 15
Governor NN Vohra has expressed shock and grief over the tragic death of seven soldiers and injuries to eight others in a snow avalanche incident in the Kupwara area yesterday.
Chain-snatchers target four women
Jammu, April 15
Chain-snatchers targeted four women in different areas of the city here today as motorcycle-borne youths snatched their gold chains.
60 micro-observers for Reasi
Udhampur, April 15
Amid allegations of candidates exploiting the sentiments of people on the basis of caste and religion, the election observer (EO) for the Udhampur-Doda Lok Sabha seat today warned political parties against indulging in hate or provocative campaigns.
13 vie for Anantnag LS seat
Srinagar, April 15
With no withdrawal on the last day today, 13 candidates are left in the fray for the Anantnag LS seat, going to the polls in the third phase on April 30.
2 bootleggers arrested
Jammu, April 15
Sleuths of the Excise Department have nabbed two bootleggers, including a woman, in Kathua district and seized 14 litres of illicit liquor and 45 kg of lahan from them.
IED seized
Rajouri, April 15
Meanwhile, alert Army troops foiled a major attempt by militants to disrupt the polling process after it seized 13 kg of IED at Beri Gala, near Rajouri, this evening.