Young World
13 LPU, 9 DAVIET students secure placements
Tribune News Service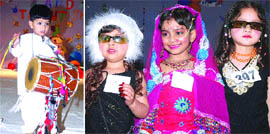 Children perform items during a Talent Show at St Soldier Divine Public School, Kapurthala Road, in Jalandhar. Photos: Suryakant
Jalandhar, April 21
Nine final-year students of B.Tech (civil engineering) of the DAV Institute of Engineering and Technology (DAVIET) have secured placements in Horizon Buildcon, a Delhi-based construction company. The selected students will join the company in July, 2009, with a starting package of Rs 2.2 lakh per annum.
Money Matters Inc, a financial management firm, conducted a placement programme at Lovely Professional University for the final year MBA students from all streams. Thirteen students have been inducted. The successful students will be provided with a pay package of Rs 2.4 lakh per annum. The hired students will join as management trainees and be promoted to the post of relationship managers.
Dress exhibition
Students of Government Girls Senior Secondary School, Nehru Garden, held an exhibition under the vocational subjects "on-the-job training" programme. The two-day exhibition concluded on Tuesday which saw display of dress material by students of garment designing and making of the school.
Talent hunt show
To polish the hidden talent among the children, a healthy baby and talent hunt show was organised at St Soldier Divine Public School, Kapurthala Road, in which about 170 students participated. Students of one to three years participated in the baby show and three to five years in the talent show. In the talent show children showed their talent in modelling, dancing, singing and in the question-answer round. In the baby show Sachin stood first and was honoured with a Rs 3,000 prize and "Mr All-Rounder", Kesar stood second and was honoured with a Rs 2,000 prize and with "Miss Sweet and Healthy Smile", Hargun Singh stood third and got a prize of Rs 1,000. In the talent hunt show Jeesha got the first position and was awarded Rs 3,000 and "Miss Talented", Dharvika Vatas got the
second prize of Rs 2,000 and Avneet Kaur got the third prize of Rs 1,000.
Techno quiz
A team of students from the Department of Paramedical Sciences, Lovely Professional University, Phagwara, won the top position at a techno quiz organised by the All-India Medical Laboratory Technologists Association at the PGI, Chandigarh.
The event was part of the World Biomedical Laboratory Science Day celebrations. Sixteen teams from 11 institutes of the region participated in the event. The team was represented by Simranjit Kaur, Arsha Jaswal and Amritjot Kaur, all students of MSc (clinical microbiology), LPU.
Educational tour
An educational tour of students of Mehr Chand Polytechnic from final year of electrical engineering course was organised last week. The students visited the Bhakra power plant at Nangal, Gujarat Ambuja Cement unit at Ropar, HMT at Pinjore, the Punjab Energy Development Authority at Chandigarh, Maulana Power House at Manikaran Sahib and various windmills on the way. The trip returned from Manali on April 13.
Lecture
A guest lecture on personality development was organised at BD Arya Girls Collegiate School, Jalandhar cantonment, for the students of classes XI and XII. The keynote lecture was delivered by Dr Anirud Kapoor, who gave tips to the students on becoming smart in life.
Bakers' contest
A bakers and confectioners competition was organised at St Soldier Hotel Management and Catering Technology behind REC under the guidance of Vice-Chairperson Sangeeta Chopra and Principal Rajan Sroha . Students of four-year and one-year ITI courses prepared different items under the guidance of Munish Kumar, in charge of the food department. Students made various delicious items
Investiture ceremony
Guru Amar Dass Public School, Model Town, organised an investiture ceremony on April 18. As many as 136 office-bearers were administered the oath of office and were presented badges. Ramandeep Singh and Tavneet Kaur of class XII were installed as head boy and head girl, respectively.
Red Day
State Public School, Shahkot, celebrated Red Day on April 17 for the students of nursery to class II. The students attended the school in red attire and also took part in sandwich making. A calligraphy competition was held for the students of classes III to X.
Space design contest
Police DAV Public School cleared the first phase of the University of Toronto space design contest in both the senior and junior groups. The projects - Mantavaya and Lakshita - dealt with establishing a space colony at the Langrangian point. The project has been designed to derive benefits from space in study of various subjects, especially the applied sciences. The team comprises Navdeep Kaur, Neha and Priyanka in the senior group and Anandita, Somali, Tushar and Anurag in the junior group. These students have also been invited to participate in the second phase of the competition to be held at Toronto University, Canada, in May, 2009.
Talent exam
Swati Maini, a class XI student of Police DAV Public School, bagged the third position in the state-level commerce talent search exam. Five other students also secured merit positions.
Prize distribution
As many as 200 meritorious students of the Apeejay Institute of Management were awarded for their accomplishments during the annual function held here recently. Deepti Sharma of MBA-IV B received the Dr Satya Paul award for moral values with a one-time scholarship of Rs 5,000. Amit Wadhwa of MBA-II A and Asha Das of MBA-IV A were honoured with the title of Mr Pinnacle-2008. Gurvinder Kaur of MBA-IV A and Vikas Kattal of MCA-VI A won the best prize for an excellent performance during a cricket match last year. PTU Vice-Chancellor Dr Rajneesh Arora was the chief guest on the occasion.