LS Polls: Faridkot seat
Greenhorn Danny gears up for pitched poll battle
Faridkot, April 2
The 32-year-old Sukhwinder Singh Danny hand-picked by Rahul Gandhi from his youth brigade is fighting the Lok Sabha election on Congress ticket from Faridkot (reserved) constituency.
Poll observer inspects strong rooms
Abohar, April 22
Election Commission observer Sameer Singh Chandel from Rajasthan inspected the counting centres and strong rooms in the DAV campus here today.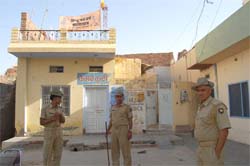 Cops deployed at RSS office
Sriganganagar/Abohar, April 22
The Rajasthan Armed Constabulary (RAC) men have been deployed at the RSS office in Suratgarh following the incident of ransacking by members of a minority community.




Cops deployed at the RSS office in Suratgarh on Wednesday. Photo: Raj Sadosh
Police told to take out flag march
Abohar, April 22
The sub-divisional police have been asked to take out flag march to instil confidence in the electorates for fair and fear free poll.
PSSF men on hunger strike, flay 'anti-employee' policies
Bathinda, April 22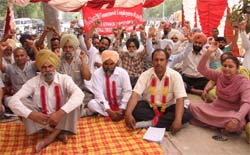 Members of the Punjab Subordinate Services Federation (PSSF) today sat on chain hunger strike to protest against the 'anti-employee' policies being adopted by the state government.



Members of the Punjab Subordinate Services Federation sitting on a hunger strike to press for their demands outside the DC office in Bathinda on Wednesday. A Tribune photograph
Bathinda health dept ready with preventive steps
Bathinda, April 22
In the wake of the increased number of dengue and malaria cases in Bathinda and adjoining areas last year, the Bathinda health department has geared up for prevention and control of these diseases.
'Quacks hindering TB control'
Bathinda, April 22
Rural doctors working with the government have said that private practitioners were acting as quacks and were misguiding poor and uneducated villagers suffering from tuberculosis by just putting them on one or two drugs, which have steroids, and preventing them from visiting government dispensaries for proper treatment.
'Sonalika tractors record highest export sales'
Bathinda, April 22
The Punjab-based International Tractors Limited (ITL), which sells tractors under the Sonalika brand, claimed that it has achieved the highest export sales among all manufacturers in the country during the financial year 2008-09.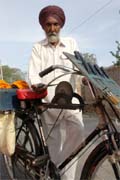 Sikligars falling victim to tech-attack
Bathinda, April 22
Except for expensive antiques, several conventional arts and professions are losing significance in this modern hi-tech world. Products churned out of machines are replacing the handmade ones. One such profession falling victim to the tech-attack is that of 'sikligars', the ones who had been making, sharpening and repairing scissors and knives for decades now.



Darshan Singh, a sikligar, who was in Bathinda recently. Tribune photo: Kulbir Beera
Students vow to save earth
Bathinda, April 22
The Earth Day was celebrated at the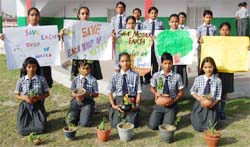 Eastwood International School, Doomwali on Wednesday. The Space Club members organised a show to mark the occasion. The Music Club kids presented a song, suggesting and advising as to how to save and preserve our environment and creating an ecological balance and living in harmony with nature and other creatures of planet earth.

Students of Lord Rama Public School, Bathinda celebrating Earth Day on the school premises on Wednesday. A Tribune photograph
Techies enthrall all on college annual day
Bathinda, April 22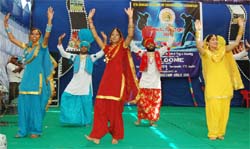 The Guru Teg Bahadur Khalsa Institute of Engineering and Technology managed by the GTB Educational Trust, Malout, celebrated its 12th annual day on Wednesday.




Students of the Guru Teg Bahadur Khalsa Institute of Engineering and Technology presenting a cultural programme during the annual day function on Wednesday. A Tribune photograph
MC clerk held for fraud
Bathinda, April 22
Kotwali police arrested a clerk of the Municipal Council, Malout, for deceiving a number of doctors of Bathinda by issuing fake house tax receipts from the Municipal Corporation office, here today.
Graft case: Army assures all help to CBI
Bathinda, April 22
Two days after a CBI team nabbed the Commander Works Engineer of Military Engineering Service (MES), Bathinda, Col. PK Mohanty red-handed with a bribe of Rs 5,000 from his office, Army authorities today broke their silence and expressed concern over the issue.
3-yr-old girl crushed to death
Fazilka, April 22
A girl (3) was crushed to death in Madhav Nagari locality today morning, while playing outside of her residence near the road, after an unidentified vehicle hit her from the back resulting in serious injuries to her.
Fair price shop raided in Hanumangarh
Hanumangarh/Abohar, April 22
A fair price shop licensee at village Khara Khera of Hanumangarh district had allegedly sold out 133 out of 243 quintals of wheat supplied to him for distribution among the Above Poverty Line families at subsidised rates to some private traders in neighboring Chautala area of Haryana, district collector Naveen Jain said today.