Slain Cong men's kin want guilty brought to book
Bathinda, April 16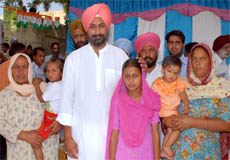 As Congress candidate for the Bathinda Lok Sabha seat Raninder Singh was visiting the villages during his campaigning, memories of two Congress men who were brutally murdered, as alleged by the villagers, were brought alive in Ghasso Khana village today. The villagers said Hargobind Singh and Swaran Singh were murdered by SAD activists on May 29 last year.
Raninder Singh with the family members of slain Congress workers in Ghasso Khana village. Tribune photo:
Malkiat Singh

Raninder to file papers today
Bathinda, April 16
Raninder Singh, Congress candidate for the Bathinda Lok Sabha constituency, would file his nomination papers here tomorrow. His father and chairman of the party's campaign committee, Captain Amarinder Singh, and his other relatives and local Congress leaders would accompany him to the mini-secretariat where he would file his papers.
Teachers wary as poll rehearsal date clashes with CET
Bathinda, April 16
Teachers of local schools and colleges told TNS that the deputy commissioner of Bathinda, today announced that the second rehearsal for polling would be held on May 3.
Duo dupe investors of crores
Bathinda, April 16
Two brothers after duping people in the city of crores have sold their property and fled along with their families. The Kotwali police booked the duo but most of the victims are not willing to be exposed, as the money they lost was "black."
Iron grills on city roads do a disappearing act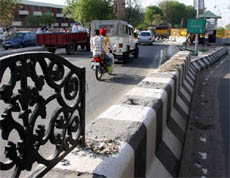 Bathinda, April 16
The costly cast iron grills installed on the centre verge on all main roads in the city has started to disappear, even before its complete installation. During a random visit, it was observed that near Liberty Chowk, a long stretch of grill had disappeared. As with past record in cases, it might be the job of drug addicts, requiring money to fulfil their need.

The missing cast iron grill on the central verge near Liberty Chowk in Bathinda. Tribune photo: Kulbir Beera

LS Polls
Parties mistake trees for woods, fail to address real issues
Mansa, April 16
Whatever the SAD and the Congress may be claiming about their respective roles so far in the overall development of entire state, Mansa district, which sans industries, would not only be belying their claims but also presenting a picture of neglect by the several governments.
Educate farmers on proper use of fertilisers, say experts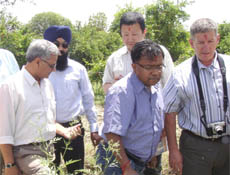 Abohar, April 16
Two senior executives from Tokyo (Japan)-based Arysta Life Science Corporation (ALSC), the world's largest privately held crop protection and life science company, visited the farms of progressive Indian farmers in Alamgarh, Sayeedwala, Sappanwali, Nihalkher and, Khuyiansarwar villages of Abohar sub-division and Mahuana in Fazilka on Thursday.

Kazuya Kolzumi and Tony Zatylny, experts from Japan and Canada, visiting fields in Abohar. Photo: Raj Sadosh

Taking stock after rich harvest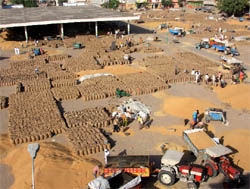 The grain market at Bathinda buzzing with activity on Thursday as wheat arrival has considerably picked up. Tribune photo:Kulbir Beera
Wheat procurement process reviewed in Ferozepur
Ferozepur, April 16
Principal secretary to CM, Darbara Singh Guru, today took stock of the ongoing procurement drive in this district. Guru alongwith Commissioner B S Sudan, DC Megh Raj and officials of the various procurement agencies visited grain markets in Mudki, Talwandi Bhai, Zira, Shahzadi, Vada Bhai Ka, Ratta Khera, Makhu and other places.
AICC observer begins tour
Abohar, April 16
The reported tussle between Guruharsahai MLA Rana Gurmit Singh Sodhi and Congress candidate Jagmeet Brar over sharing a seat with Amarinder Singh in the latter's car during the road show in Ferozepur yesterday and other unpleasant happenings, including removal of welcome gates in Fazilka, are believed to have come under discussions during the meeting that Ranbir Singh Mohindra, the AICC observer, held here today while beginning his tour of the state, sources indicated.
Youth found dead in Bathinda hotel
Bathinda, April 16
An unidentified youth was found murdered in a hotel located opposite the railway station here on Wednesday night.