Women voters set to play key role in Bathinda
Bathinda, April 26
Women voters are set to play a major role in the elections for the Bathinda Lok Sabha seat. Their number is approximately at par with that of the male voters here. Out of the 13,36,786 voters eligible for exercising their franchise in the forthcoming elections, 6,32,706 (47 per cent) are women and 7,04,080 (53 per cent) are men.
D-factor to play pivotal role in polls
Bathinda, April 26
The Dera factor is expected to play a key role here during polling for the Bathinda Lok Sabha seat that is witnessing a prestigious contest between scions of the two leading families — Chief Minister Parkash Singh Badal and Captain Amarinder Singh, the Congress campaign manager.
'Cong has faith in Punjabis'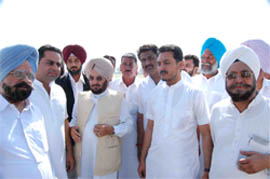 Ferozepur, April 26
Congress high command has accorded tremendous faith and respect not only in the Sikh community but also in the entire state of Punjab and the Punjabis by renominating Dr Manmohan Singh for the post of PM, stated Lal Singh, working president PPCC, who addressed series of public gatherings at Village Attari, Bhatian Wali Basti, Dhira Gara and Wahka in support of Congress candidate from Ferozepur Lok Sabha seat, Jagmeet Brar here today.

Lal Singh, working president PPCC, with other party workers in Ferozepur on Sunday. A Tribune photograph

First-time voters vow to act sensibly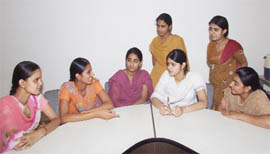 Ferozepur, April 26
Possessing an EPIC card assumes lot of significance of these first time voters, who with Lok Sabha polls on the anvil look totally absorbed in discussing issues like growth, development and politics these days.

College girls discussing current political scenario ahead of Lok Sabha polls in Ferozepur. A Tribune photograph
Campaign gains momentum
Mansa, April 26
Congress leaders have intensified poll campaigning in Mansa. They held public meetings, rallies and door-to-door campaign in Mansa and nearby villages. A jatha of woman workers led by Amninder Kaur, cousin of former chief minister Amarinder Singh and Harminder Jeet Kaur Joga, daughter-in-law of late freedom fighter comrade Jagir Singh Joga today continued door-to-door campaign in Mansa city to garner support for Congress candidate Raninder Singh. Another Congress leaders as Raminder Singh Amla and others addressed public meetings. Meanwhile, assistant secretary of CPI block Budhladha Piari joined the Congress and started campaign in favour of Raninder Singh. —OC
Cops clueless on absconding brothers who duped locals
Bathinda, April 26
More than ten days after the incident, the district police is still clueless about the whereabouts of the two brothers accused of duping people of crores in the city. Ironically, the special police parties constituted under technical experts have returned empty-handed after conducting raids in Patiala and Chandigarh.
PTU exams postponed by ten days
Jalandhar, April 26
Punjab Technical University (PTU) on Saturday put off the examinations of all its regular classes for 10 days. The exams that were scheduled to commence from May 8 will now begin on May 18.
Attack on Dera follower draws flak
Mansa, April 26
Followers of Dera Sacha Sauda have condemned the yesterday's incident in which a dera follower was injured during a firing at Sardulgarh. It may be mentioned that Krishan Kumar, a resident of Khaira Khurd, was injured during a firing incident. Two unidentified motorcyclists fired on him and fled from the spot.
3 injured as car hits tree
Bathinda, April 26
Three persons sustained injuries when a car swerved out of control and hit a tree on the Bathinda-Dabwali road here on Sunday. According to information received, the car turned turtle after hitting the tree. Those injured have been identified as Mandeep Singh and Vicky of Raman Mandi and Manjeet Singh of Chandigarh. A team of the Naujwan Welfare Society, an NGO, shifted them to the Civil Hospital, Bathinda. —TNS
Bank begins single window service for senior citizens
Bathinda, April 26
Bank of Rajasthan, Bathinda branch, on Saturday started a special counter for providing single window service to its senior citizen customers. D.S. Mastana and R.D. Gupta, members of the Senior Citizens Council, appreciated the initiative taken by the bank. Earlier, S.K. Bansal of Rotary Club, Bathinda, gave details about the initiatives taken by the bank with the support of the club. Sanjay Mittal, assistant vice-president of the bank, thanked the club members for making the step successful. —TNS
Scribes urged to live up to people's expectations
Gidderbaha (Muktsar), April 26
Asking journalists to engage themselves in responsible and "solution-oriented" work, B.K.Sushant, national coordinator, media wing of Brahma Kumaris Ishwariya Vishwavidyalaya, Delhi, has said any misinformation or suppression of truth by the media can cause great damage to society.
'Home guard jawans not dissatisfied'
Ferozepur, April 26
District commandant of the Punjab Home Guards (PHG), Sohan Lal, today denied the reports that home guard jawans were to oppose SAD-BJP in the ensuing polls. Sohan said that there was no association of PHG volunteers in the state and neither there was any such discontent prevailing among the PHG cadre.
Placement session held
Bathinda, April 26
In an attempt to streamline placement activities in the institute, the Guru Gobind Singh College of Engineering and Technology, Talwandi Sabo, is making continuous efforts to provide their students with the placements in the companies of repute.