Militants kill three of family
Udhampur, May 8
In an inhuman act, terrorists of the Hizbul Mujahideen yesterday shot dead three family members of a newly married girl for refusing to marry a Hizbul commander active in the Mahore area of Reasi district.
Amarnath yatra likely from June 7
Jammu, May 8
The annual Amarnath pilgrimage to the 3,880-metre high cave shrine in south Kashmir is likely to begin on June 7. To ensure an incident-free pilgrimage, around 20,000 security personnel will be deployed.
Guv surveys Baltal axis to Amarnath cave shrine
Srinagar, May 8
Governor NN Vohra today undertook an extensive aerial survey and on-ground assessment of the track and other facilities at the base camp for Amarnath yatra via Baltal axis. He had on Wednesday conducted an aerial survey of the traditional route along Pahalgam-Panjtarni to the holy cave shrine of Amarnath.
Tea vendor gets his shop back after 18 years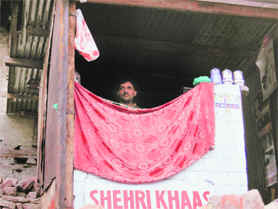 Srinagar, May 8
For Mushtaq Ahmad, a tea shop owner in the old city of Srinagar, today was a special day, not only because he was restarting his small business after several days of forced closure due to poll-related violence in this part of the city, but also because he was doing it from his shop after about 18 years.

Mushtaq Ahmad takes possession of his tea shop after 18 years as security forces vacated it after the Lok Sabha elections in Srinagar. Photo by writer

Safai karamcharis exposed to diseases
Jammu, May 8
Safai karamcharis of the Jammu Municipal Corporation (MC) work under hazardous and unhealthy conditions as they lift garbage and other waste materials from the city to provide healthy living conditions to the residents.
Red Cross Society to help terror-hit families
Srinagar, May 8
The State Red Cross Society has started the process of providing sustainable livelihood to families which have lost their bread winners to militancy. The society intends to provide support to terrorism-affected families.
Mobile Cos told to pay dues
Jammu, May 8
The Rural Development Department, Jammu, today issued a notification, asking all public and private sector companies (Bharti Airtel, Aircel, Vodafone, Tata Indicom and Reliance etc) to deposit their annual renewal fee for mobile towers installed in rural areas of Jammu division by May 31.
Mobike rider dies in mishap
Jammu, May 8
A mobike rider was killed while 32 were injured in road accidents in and around Jammu.
Legal awareness camp held
Jammu, May 8
To create awareness among people, Law School of Jammu University organised a legal aid/legal literacy camp with the help of the students of the five-year law integrated course at Sallan village in Hiranagar, Kathua, today.
Poll staff, EVMs airlifted
Srinagar, May 8
The divisional administration, Kashmir, today arranged the airlifting of poll staff and material to the snow-bound areas of Gurez and Zanskar that fall in the Baramulla and Ladakh parliamentary constituencies, respectively, which are going to the polls on May 13.
Lecture series deferred
Jammu, May 8
The Annual Ishwinder Mahajan Memorial Lecture, 2009-10, which was earlier scheduled to be held today, was postponed in view of the Jammu bandh.
Minor girl kidnapped
Jammu, May 8
A 17-year-old girl was allegedly kidnapped by a youth from Prem Nagar here last evening.
Power shutdown on May 10
Jammu, May 8
The power supply to parts of Jammu district, including Trikuta Nagar, Gandhi Nagar, Panjtirthi, Channi Himmat, Sainik Colony, part of old city, Akhnoor and Jourian area besides Rajouri and Poonch districts shall remain suspended from 6 am. to 10 am. on May 10 to carry out urgent work.
Foreign ultra shot dead
Srinagar, May 8
A foreign militant was killed in an encounter in the Lalpora area of Kupwara district yesterday.