Candidates recharge themselves
Syed Ali Ahmed
Tribune News Service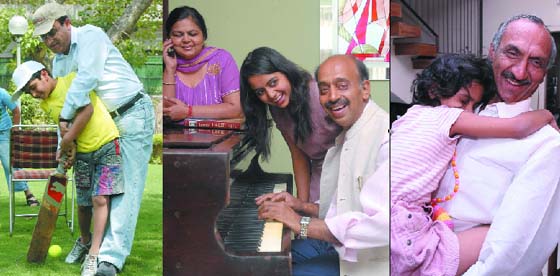 (From left) MP and Congress candidate from New Delhi constituency Ajay Maken plays cricket with his sons at his residence in New Delhi on Friday. Maken's rival BJP's Vijay Goel plays the piano with his daughter and wife at his residence. DPCC chief J.P. Agarwal with his granddaughter at his residence. Tribune photos: Mukesh Aggarwal
New Delhi, May 8
After a month of hectic electioneering schedule, some contestants are taking rest at home playing chess, guitar and getting their bodies massaged while some are enjoying the day with relatives, friends and party workers.
One of the contestants was busy preparing the list of expenses incurred during the campaigning.
One contestant was making an estimate of the number of votes he would win while sitting with the party workers.
Besides, the Delhi unit of the Bharatiya Janata Party (BJP) held a meeting making an assessment of yesterday's polling. All the contestants attended the meeting organised in the evening and submitted the report.
BJP's candidate from New Delhi, Vijay Goel, was busy calculating expenses made in the election.
He also spent his day by playing chess, guitar, piano and watching TV with his children, said one of his election managers.
Octogenarian BJP leader, B. L. Sharma Prem got his body massaged after a tight election schedule for more than one month.
He also consulted an advocate about a legal notice served on him by the Election Commission over a statement made by him in a public meeting.
He submitted the reply to the Election Commission.
Prem said he attended the party meeting in the evening to discuss the report of the polling day.
West Delhi BJP candidate Jagdish Mukhi kept busy in meeting with party workers and making assessment of the election result. He was confident of winning the seat with heavy margins.
As far as Congress candidates are concerned, DPCC president and North East Delhi candidate, Jai Prakash Agarwal said that he attended his office in Parliament and did other works as per routine. "I am only 64 years old and this age is not to sit at home," he said.
Ajay Maken was planning to go out of Delhi for a breather.
Sandeep Dikshit had daily routine of meeting party workers at home.
North-West candidate Krishna Tirath said, "I have met my party workers and relatives and discussed yesterday's polling. I was at home throughout the day."
Ramesh Kumar who contested from South Delhi had gone to Gurgaon to attend a family function.
Cong will bag 200 seats: Sibal
Expressing confidence about forming the government again with allies, the Congress said today it would bag around 200 seats in the polls.
"The party is running towards the 200 (seat) mark. It will be a Congress-led coalition government," party leader Kapil Sibal told reporters.
"The kind of information we are getting from the states that went to polls in the last four phases... we are well poised to form the government," Sibal said.
Delhi, which went to the polls May 7 for the seven Lok Sabha seats, recorded 53 per cent voting.
"The way youths are coming forward to cast their votes shows that they are impressed with our young leadership. The youth of the country favour the Congress and this is good. From all places, the news for the Congress is good," Sibal added. — IANS