Suicide by Rape Victim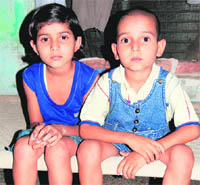 In distress, family pins hopes on NCW
Rohtak, May 9
Blaming her fate and misfortune, 50-year-old Savitri, mother-in-law of deceased Alka, is sitting sulking on the premises of the PGIMS, Rohtak, awaiting some news that could provide a relief to her family. Her son Sunil had also consumed poison, along with Alka, in front of the IG office here on Wednesday in protest against the police inaction against the accused who "gang-raped" Alka and the cops who had been trying to "shield" them.
Childhood lost: The rape victim's kids, who are now with their grandparents. Photo: Manoj Dhaka

BJP demands CBI probe
Sonepat, May 9
BJP's state media in charge Rajiv Jain has demanded a CBI inquiry in the suicide of Alka and attempt to suicide of her husband in front of the office of IG police, Rohtak, recently.
Case Against Dera Chief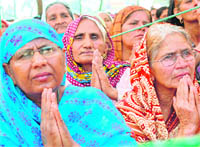 Sadhvi cross-examined
Ambala, May 9
The arguments and cross-examination of one of the victim sadhvis of the dera in the sexual exploitation case of sadhvis concluded in the court of Special Judge of the CBI, Haryana, AK Verma here today.


Followers of Dera Sacha Sauda chief Gurmeet Ram Rahim Singh attend his discourse in Ambala Cantt on Saturday. Photo: Kamal Sachar

Huge arrivals help FCI lift more wheat
Chandigarh, May 9
The exceptionally high wheat arrivals in Haryana this year has helped increase the share of wheat procured by the Food Corporation of India (FCI). As compared to earlier years, when the central procurement agency had to struggle to meet its allotted 10 per cent share in procurement, the FCI, Haryana, has managed to procure 13.56 per cent of the total wheat arrivals.
Judge inspects jail
Sirsa, May 9
Justice Mohinder Pal of the Punjab and Haryana High Court today inspected work in the District Courts. The judge also had a meeting with various judges of the court in the office of District and Sessions Judge HP Singh.
12-yr-old sodomised, murdered
Sonepat, May 9
A 12-year-old boy, Sazid, was allegedly hammered to death after being sodomised by an unidentified person in Bilandpur Kheri village late last night. On a complaint of the boy's mother, Meena, the police has registered a case.
EC notice to HPCC working president
Chandigarh, May 9
The Election Commission has served a notice on working president of the Haryana Pradesh Congress Committee Kuldeep Sharma asking him to explain why he should not be prosecuted and arrested for attempting to bribe voters during the elections.
Bid to tamper with EVMs, says BSP
Gurgaon, May 9
Bahujan Samaj Party (BSP) candidate Zakir Hussain had expressed fear that opposite parties are making an attempt to interfere with the electronic voting machines (EVM) that are lying here. The city-based NGO - Adhikaar - the rights path party, had written a complaint to the Chief Election Commissioner of India on the basis of the party.
Poll-boycott Posters
2 more suspected Maoists held
Yamunanagar, May 9
Two more suspected Maoist activists, who were alleged to be involved in pasting of posters on walls of houses of many villages in the Chhachhroli areas asking the villagers to boycott the polls, were arrested here today. Charan Singh (26) and Bitu (22) were arrested by the CIA staff headed by DSP Mukesh Kumar from Bhurkalana village.