PDP spreading rumour of toll tax hike: Omar
Srinagar, May 9
With only two days left for campaigning in the last phase of elections when the Baramulla constituency will go to the polls on May 13, Chief Minister Omar Abdullah and other coalition leaders campaigned in north Kashmir today.
Violence-free poll so far, but ultras' threat looms
Srinagar/Baramulla, May 9
For the troops guarding border with Pakistan, it is no consolation that this year's Lok Sabha elections have, so far, been violence-free, whereas the previous one had witnessed 13 political killings, 11 of them at a PDP rally in Baramulla's Uri segment, and 24 attacks on polling stations.
Grenade attack on Beigh's house
Srinagar May 9
An unidentified militant was killed in an encounter with the security forces in Ganderbal district last night, while the police apprehended two suspected militants here today.
CRPF man shoots colleague
Udhampur, May 9
A head constable of the Central Reserve Police Force (CRPF) allegedly shot dead his colleague near Kishtwar bus stand this evening.
Humming Buds celebrate Mother's Day
Jammu, May 9
Humming Buds, a pre-school of the Model Academy, today celebrated Mother's Day at its BC Road and Residency Road branches.
Mother's Day: They miss their moms
Srinagar, May 9
The affection and love from mothers would be doubled tomorrow on Mother's Day, but pangs of separation for those who don't have mother and lost her at a young age continue to pain them.
Buddha Purnima celebrated
Jammu, May 9
Buddha Purnima was celebrated with religious fervor and gaity in the state. The festival is celebrated as the birth anniversary of Lord Buddha. As per historians he achieved enlightenment on this day and he died the same day, which is called 'Mahaparinirvana'.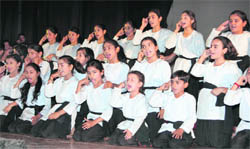 World Red Cross Day observed
Jammu, May 9
The Indian Red Cross Society today observed World Red Cross Day at a function organised at Abhinav Theatre in the J&K Academy of Art, Culture and Languages.


Schoolchildren perform at a function organised on World Red Cros Day at Abhinav Theatre in Jammu on Saturday. Tribune photo: Anand Sharma
DGP reviews security for Baramulla LS poll
Srinagar, May 9
DGP Kuldeep Khoda today reviewed security scenario in three north Kashmir districts of Bandipora, Baramulla and Kupwara at separate meetings held at these district headquarters. Officers from the police and other security forces participated.
PDP flays Tara Chand
Udhampur, May 9
The PDP today flayed Deputy Chief Minister Tara Chand for not visiting the accident victim families during his visit at Kishtwar.
Global warming threatens Ladakh wetlands
Jammu, May 9
While the threat of global warming has alarmed the entire world community, in India it is threatening the very existence of high altitude Himalayan wetlands in general and the wetlands of Ladakh in particular, Pankaj Chandan, India coordinator of the Himalayan High Altitude Wetlands Conservation Programme, has said at an extension lecture.
Tussle over tiles delays laying work
Sunderbani (Rajouri), May 9
The work of laying of tiles in lanes and bylanes in the town has been delayed because of an alleged tussle between chairman of the Municipal Committee GL Dogra and a contractor over the colour of the tiles. The excavation work in the lanes and the bylanes was completed about six months ago.
Punjabi book released
Jammu, May 9
Nangli Da Modi, a Punjabi book describing the life sketch of Sant Bhai Rattan Singh Modi, was released here today at the J&K Academy of Art, Culture and Languages.